Wide Right-Turns by Tractor-Trailers Often Cause Collisions Resulting in Serious Personal Injuries and Wrongful Death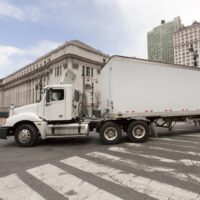 18-wheelers are massive, long and unwieldy vehicles. When tractor-trailer drivers make turns, they often lack adequate training that causes their turns to be operated in a dangerous manner. Often, they initially steer their vehicle in the opposite direction which sends the wrong signals to other motorists in the vicinity about the truck's next direction of travel. Truck drivers who fail to make those turns properly greatly increase the likelihood of a collision with another vehicle on the road. While they also frequently occur with left-turns, below we discuss right-turn accidents with 18-wheelers and how they can and should be avoided. If you've been injured in a Texas big rig accident, call an experienced Beaumont 18-wheeler accident lawyer.
The Trouble With 18-Wheeler Right Turns
Tractor-trailers involve long, interconnected vehicles with multiple axles. Because of the length of the truck, the radius of the turn, and the nature of the connection between the cab and the trailer, it takes adequate training and experience to turn the tractor in such a way that wheels in the rear track the same path of the front wheels. The truck driver needs to adjust in order to account for the pathway of the trailer. Collisions occur when the trucker turns from the left lane or veers into the left lane of the perpendicular road during the process of the turn, which generally violates the right-of-way of other motorists in the vicinity.
The punchline is this: There's a proper and safe way for truckers to make such turns in order to reduce the risk to other motorists on the road. There are also many unsafe ways to make those turns that can cause serious personal injuries to others on the road. If a truck driver is poorly trained, distracted, intoxicated, underqualified, uncertified, or driving a truck that is poorly maintained, overloaded, or hauling an imbalanced load, collisions during right turns are an extremely high risk. If the truck veers too widely to the left, it can collide with oncoming traffic in the intersection. If they make a turn from the left lane without proper notice and signaling, move too quickly, or otherwise fail to operate safely, they could strike a vehicle heading straight or turning right on the inside lane.
Liability After a Tractor-Trailer Right Turn Accident
If you were injured in an accident with an 18-wheeler making a right turn, you might be entitled to a substantial recovery from the truck driver and/or their employer. To recover damages, however, you'll need to demonstrate that they were at fault for the accident. By way of traffic camera footage, witness statements, police reports, and other evidence, you and your attorney will need to show that the truck driver acted negligently in making their (already dangerous) right turn. which we have successfully done hundreds of times for other satisfied clients.
Trucking companies may try to claim that the injured victim was at fault for the accident. Almost always, these dangerous truckers will claim they had their blinker on or that this amounts to an adequate warning to you, even though they quickly changed positions. However, in these types of collision, almost always it was you who had the absolute right to be where you were when this type of collision occurred. Your consultation with an attorney experienced in these matters will be very important, prior to you giving any type of recorded statement, which you are not even required to give. Your first call is a very important one, and it never hurts to get more information.
Call for Help After an 18-Wheeler Right Turn Accident in Texas
If you've been hurt in a right-turn accident with a large truck or any other type of vehicle accident in Texas, contact the experienced, zealous and effective Beaumont personal injury lawyers at the Gilbert Adams Law Offices for a free consultation on your case at 409-835-3000.