Firm Overview of Gilbert Adams Law Offices
How We Operate
Initial Consultations are at no charge and our compensation is a percentage of the recovered amount. We provide each client with the highest level of dignity and professional courtesy regardless of their economic status. In doing so, we are not paid until we have satisfactorily recovered for them.
Legal Library
Supplementing our electronic database, our law library is a comprehensive collection of text encompassing all areas of personal injury and wrongful death law. Compilations of medical, legislative, engineering, safety and psychological publications help to assure that our cases have solid foundations. The breadth of our law library affords us the luxury of having scholarly resources quickly available.
Paralegals Assisting Attorneys
While your case will be assigned and handled by Attorneys, a paralegal will also be assigned to your case. Our dedicated team of legal professionals includes individuals who collectively have more than 50 years experience in the legal field. All individuals are specially trained to assist attorneys to have the most reliable and up-to-date information to win cases.
Local Counsel
Because of our reputation we periodically are requested and occasionally agree on a case by case basis to "assist" as local counsel for out of state and out of area law firms and their clients.
Firm History
We are a third generation professional association of trial lawyers whose concerns and reputations are distinguished by excellence and compassion. We recognize that our clients usually come to us after they have been intentionally or negligently wronged.
Sometimes the wrong is an unethical or fraudulent commercial activity by which an individual or corporation has taken unfair advantage of our client. Typically, the wrong is a serious or catastrophic personal injury or death with enormous personal and financial loss. We provide experience with an unwavering sense of right and wrong fortified with superior legal experience enabling us to bring justice against any company. The Gilbert Adams Law Firm stands committed to just resolutions so that our clients receive the maximum result to which they are legally entitled.
Our attorneys are sought-after speakers, authors, and teachers of trial advocacy and bar leaders. First and foremost, however, to each attorney's professional life is the honorable and successful representation of those who have entrusted their rights to our care.
The firm traces its roots to1930, when Gilbert T. Adams returned to his hometown to establish his law practice in Beaumont. Adams was a trial lawyer and prominent legal figure throughout Texas for more than fifty years. He also was an international leader in securing and preserving human rights. He inspired and mentored many young lawyers, a number of whom joined him in the practice of law. Until his death in 1984, he was a state and national leader of the Bar by virtue of his trial and appellate advocacy, his vital leadership of the Jefferson County Bar Association, the Texas Bar, the Texas Trial Lawyers Association, the International Academy of Trial Lawyers, the Supreme Court Advisory Committee, and his work as a founder of the Association of Trial Lawyers of America, the world's largest association of trial lawyers.
Upon graduating and receiving his Juris Doctor degree and his law license in 1968, Gilbert T. Adams, returned to Beaumont to join his father's thriving practice. Since that time Adams has litigated numerous personal injury and commercial tort cases with multimillion-dollar verdicts and settlements, thus causing him to be recognized by his peers as president of the Texas Trial Lawyers Association, president of the Southeast Texas Trial Lawyers Association, member of the board of governors and executive committee of the Association of Trial Lawyers of America, member of the Supreme Court Advisory Committee, Advocate, American Board of Trial Advocates, and many other professional and community activities.
Gilbert T. Adams, III, earned his bachelor of arts degree from Baylor University in 1992 and a Juris Doctor degree in 1994 from Baylor University School of Law.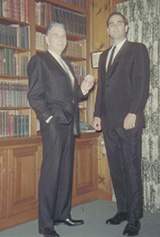 Upon receiving his law license, Gilbert T. Adams, III returned to Beaumont to join the firm. He quickly distinguished himself in litigating numerous substantial personal injury cases with multimillion-dollar results, thus causing him to be recognized by his peers in the Million-Dollar Advocates Forum, vice president of the Southeast Texas Trial Lawyers Association, member of the board of directors of the Texas Trail Lawyer Associates and frequent lecturer of trial advocacy across the nation.
Each personal injury and wrongful death case that our firm accepts involves extensive and detailed research. Our reputation for excellence and compassion is the result of dedicated accomplishments on behalf of our clients for more than seventy years.
Proudly serving Southeast Texas' Golden Triangle for over 70 years, including Hardin, Jasper, Liberty, Tyler, Sabine, Chambers & Newton counties.
Our Philosophy
We believe that each client's case is of paramount importance to them and we will take up their cause as though it were our own.
We believe that each client's case, regardless of how small or large, deserves respect and the full advantage of our professional attention.
We believe that the voice of our client's opposition may be louder than their own but when joined with ours will be heard clearly.
We believe in the worth and dignity of each human being.
We believe in representing the interests of all citizens according to the law, ensuring their safety and health against foreign and domestic insurance companies, employers and product manufacturers.
We believe in providing professional leadership to serve justice for victims of wrongful death and serious personal and economic injury.
We believe in supporting laws that increase the standard of living and increase access to justice for all Americans.
We believe in opposing laws that reduce opportunities for life, liberty and the pursuit of happiness.
We believe in honesty and integrity with a deep-rooted commitment to excellence.
We believe in a commitment to values such as fairness, respect and compassion.
We believe that our clients demand and deserve the highest level of professionalism and knowing this will strive not only to attain that level but maintain it as well.
We believe that the individual's right to trial by jury is fundamental to our country's guaranteed freedoms and we will fight to preserve it.
We believe in helping protect America's civil justice system and consumer and family safety.
We believe in the sacred responsibility that goes with the fact that our firm has been protecting the legal rights of the injured, workers, consumer and their families' since 1930.