What Is Accidental Drowning? Do I Have a Case?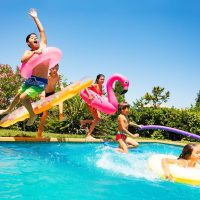 This summer's relentless heat has been sending people to the water in droves for a chance to cool off, from lakes and rivers to municipal pools to a neighbor's backyard. As enjoyable as a dip in the pool or a day at the lake can be, it is not without danger. Tragically, dozens of people die every year due to accidental drownings in Texas. And while people of all ages lose their lives in drowning accidents, children are especially at risk. According to Safe Kids Greater Houston, drowning is the leading cause of unintentional death among children between the ages of one and four and the second leading cause of unintentional death among children aged one to twelve. Nearly a third of all drownings in the state happen in Harris County and surrounding areas.
Continue reading for a discussion of accidental drowning and the various instances when another party might be liable to the accident victim or their family for causing the incident. For help pursuing justice and compensation after a drowning death or injury in Beaumont, Houston, or Texas statewide, call Gilbert Adams Law Office to discuss your case with an experienced and dedicated Beaumont personal injury attorney.
Liability in Recreational Boating Accidents
Boating is a popular recreational activity in Texas. However, negligence can lead to unfortunate incidents resulting in serious injury or death. If a boat operator is under the influence, distracted, or fails to provide necessary safety equipment such as life jackets, they may be held liable for any resultant drowning. Boating rental companies are also responsible for maintaining their boats and ensuring they are safe for use and equipped with appropriate safety gear. If they fail in this duty, they too can be held accountable.
Drowning in Municipal Swimming Pools
Municipal swimming pools are a haven for summer fun. However, these public entities have a duty to maintain safety. If lifeguards are not adequately trained, if there's a lack of signage indicating pool depths, or if the pool isn't maintained correctly, the municipality can be held responsible for drowning accidents.
Drowning at Private Residence Swimming Pools
At the state level, Texas has enacted residential swimming pool regulations and fence requirements for resident pools. Local municipalities like Houston, Beaumont, and even Homeowners Associations (HOAs) might have their own rules as well. At a minimum, swimming pool owners must adhere to the following rules:
Fencing: Texas laws require pools to have barriers that are at least 4 feet high to prevent children and other unauthorized persons from accessing the pool easily. Gaps or openings in the barrier can't be any greater than four inches wide; a chain-link fence is not sufficient.

Gates: The gates leading to the pool should be self-closing or self-latching and capable of being locked. Latches must also be high enough that a child cannot reach them, or the gate should be locked when unattended. If gates are left open or are faulty, the homeowner could be held liable.

Locks and Covers: Especially relevant for those with hot tubs or spas, locks and safety covers are crucial. They prevent children and animals from accidentally falling in.

Alarms: Some regions in Texas have provisions recommending or mandating alarms that sound if someone enters the pool area.
If a homeowner neglects these provisions and someone drowns as a result, they can be held legally responsible.
Help Is Available After an Accidental Drowning in Houston
Drowning incidents are heartbreaking, and the pain is only made worse when it's discovered that the tragedy was avoidable. Whether it's due to a boating company's negligence, a municipality's oversight, or a homeowner's neglect, victims and their families have the right to pursue justice. Gilbert Adams Law Offices can guide you through the intricate legal processes, ensuring that those responsible are held accountable. If you or a family member has suffered from a drowning accident, reach out to our personal injury and wrongful legal team today by calling 409-835-3000 for a free consultation. Our compassionate and dedicated lawyers serve clients in Beaumont, Houston, and statewide throughout Texas.