What is the Law for Booster Seats in Texas?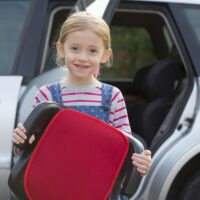 Traffic safety laws for under-age children can vary significantly from state to state. While every state requires children of a certain age to use child safety seats for some period of time, state laws vary on where children can be located in the car, whether the seat must be forward or rear-facing and the ages at which the rules change. Read on to learn about the child passenger safety regulations in Texas, and call a dedicated Beaumont traffic crash lawyer if someone you love has been hurt by a negligent driver.
Booster seat requirements by age
All passengers in a vehicle in Texas, regardless of age, must be secured by a safety belt. Driving without a seatbelt is a primary violation – meaning the police can pull you over and cite you for not wearing a seatbelt. Children are required to ride in special safety or booster seats until they reach certain ages, with some wiggle room depending on the child's height and weight.
The general requirements for each age range are as follows:
● Birth to 2 Years. Infants and toddlers must ride in a rear-facing car seat until age one, in the back of the car. Children should continue riding in a rear-facing seat until they reach age two or until they exceed the maximum weight or height recommended by the car seat manufacturer.
● 2 to 4 years of age. Children over two should ride in a forward-facing safety seat with a harness for as long as the seat manufacturer recommends. The seat's label should indicate the minimum and maximum heights and weights for the use of a forward-facing safety seat.
● 4 to 8 Years of age. All children up to eight years old, unless they are taller than 4 feet 9 inches, must ride in a child safety or booster seat. Once the child outgrows the safety seat with the harness, per manufacturer recommendations, the child should travel in a booster seat. The booster seat will be secured by the adult lap and shoulder belt.
● 8 to 13 Years of age. Children should continue to use the booster seat until they outgrow the booster seat, at which point children over eight can use a lap and shoulder belt for maximum protection. Children under 13 should continue to ride properly restrained in the back seat. After age 13, children may ride in the front passenger seat but must still wear a seatbelt.
Texas safety officials recommend that parents keep their children in each phase for as long as possible to ensure maximum protection.
Call For Help With Your Texas Car Crash Claim
If you or your child have been hurt in a Texas car or truck crash, contact the passionate and trial-ready Beaumont personal injury lawyers at the Gilbert Adams Law Offices for a free consultation on your case at 409-835-3000.