Your Car's Event Recorder Following a Crash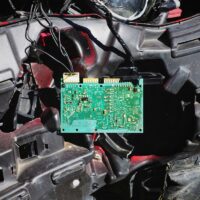 Vehicles on the road today come with all manner of bells and whistles. One little-known feature of most late-model vehicles can be extremely important to obtaining fair and reasonable compensation after a car crash, often referred to as an. event data recorder that can gather important data following a car crash. To learn about event data recorders and your legal rights in Texas, read on. If you've been hurt in a Texas car crash, call a seasoned Beaumont car accident lawyer for advice and assistance.
What Is an Event Recorder and What Does It Record?
An event data recorder (EDR) is a device that records information about what happens in connection with a car crash, including what was happening before, during, and after the accident. Unlike a dashcam or other similar device, EDRs are not always on–they record information only in the several seconds preceding and following a car wreck.
EDRs record a limited set of information, and the type of information captured varies somewhat by automotive manufacturer. EDRs generally collect data concerning about 15 different variables involved in an accident, gathered from around 20 seconds before an accident to around 5-10 seconds after a crash. The data gathered typically includes:
Speed of the vehicle immediately preceding a crash and at the moment of impact;
Application of brakes;
Engine RPMs;
Vehicle operation prior to crash including speed, use of accelerator, and use of steering wheel
Force of the crash
Duration of the crash
Weight of front-seat occupants
Number of impacts
Deployment of airbags, including the speed of deployment and whether any faults were detected
Activation of any automated collision avoidance system
Wh
ether the seatbelt was engaged at the time of impact.
Depending upon the particular unit, the EDR may also cover facts such as the time of the crash, the location of the vehicle, and other useful data.
Does My Car Have an EDR?
The vast majority of vehicles manufactured in the last decade have EDR devices installed. In 2012, the National Highway Traffic Safety Administration (NHTSA) sought to require all newly-manufactured vehicles to come standard with an EDR. In 2019, NHTSA withdrew that rule, citing the fact that most new vehicles (an estimated 96 percent) already come with an EDR.
You can check your vehicle for an EDR. They come in the form of a small box, around the size of a smartphone. The EDR is typically placed under one of the front row seats or the central console (in between the two seats).
How Do I Get the Information From My EDR?
According to federal and Texas state law, the owner/lessee of the vehicle is the owner of the data generated by the EDR, and that data is protected by privacy laws. Other parties, such as insurance investigators, can only obtain EDR data if they have authority from the owner, a court order, or other specific legal authorization (such as to conduct traffic safety research or provide medical care).
However, even though you might own the data, actually accessing it can be a challenge. It's not as easy as plugging the device into a USB port. Accessing EDR data requires professional assistance, which can cost anywhere from $200 to $2000 depending upon the make and model of the unit.
If you hope to access the EDR data of an at-fault driver after an accident, you may need to obtain a Court Order. A seasoned car accident lawyer can help you access your own EDR data and gain access to EDR data from other drivers in order to build your case.
If you or a loved one has been injured in a car accident, contact the passionate and successful automobile collision attorneys at the Gilbert Adams Law Offices for a free consultation. Call 409-835-3000 or contact us online for immediate assistance.