Commercial Vehicle vs. Car Collision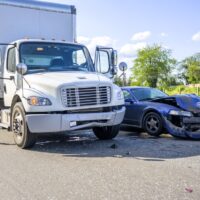 There are a number of major differences when you have been involved in a collision with a commercial vehicle (including tractor-trailers, work trucks or vans, or any vehicle driven by an employee of a business) as opposed to a traditional passenger car. Additional rules and regulations apply, additional parties may be liable for your injuries, and you may face additional hurdles when seeking compensation. To learn about commercial vehicle accidents, continue reading. If you've been hit by a commercial vehicle in Texas, call an experienced, savvy Beaumont commercial vehicle accident attorney with the resources to win in your fight for fair and reasonable compensation.
What is a Commercial Vehicle Accident?
A commercial vehicle accident is any accident involving a company vehicle or company driver. If you were hit by a long-haul truck driver, a limousine driver, or a delivery driver, you might have the opportunity to collect additional damages. Commercial drivers are required to purchase commercial insurance policies, usually with higher policy limits. Of course, that means contending with bigger insurers and bigger law firms with more on the line, meaning it's even more important to have a seasoned car accident attorney in your corner.
Additional Rules and Regulations for Commercial Drivers
Commercial drivers are subject to additional safety rules and regulations beyond those applicable to normal drivers. Commercial drivers may need to carry special licenses (such as commercial driver's licenses specific to vehicles in excess of 10,000 pounds, those that carry passengers, and those transporting some hazardous materials) and undergo special training. They have to adhere to special requirements for vehicle maintenance and safety device installation, and they have to worry about securing and carrying loads appropriately and below certain weight limits. Some commercial drivers are also subject to additional regulations concerning the hours they work, with limits on the number of hours they can drive in a given day and a given week without a long rest period. Any commercial driver or commercial employer who skirts these safety regulations is subject to statutory penalties as well as civil liability for anyone harmed by their failure to comply with applicable regulations and industry standards.
Who is Liable in a Commercial Vehicle Accident?
If you were injured in a car accident, it's important to know who may be held liable for your damages. Individual drivers and their insurance policies may be able to cover your damages, but it is always helpful when a party with more resources is also liable. Medical bills and other damages following a serious car accident can wind up in the tens or hundreds of thousands of dollars, and traditional passenger vehicle policy limits are usually insufficient to cover your damages. There can be issues of deductibles or self-insured retentions that may complicate the amicable resolution of a case. When an accident involves a commercial vehicle, the driver's employer may share liability.
Under the legal theory known as "respondeat superior," employers are liable for the actions of their employees that were undertaken during the course of their employment or agency. So long as the employee was acting in the scope of their employment when they negligently caused an accident, the employer can be held jointly liable for the damages caused. If the worker was driving a truck for a freight company, a delivery vehicle for a commerce provider, or a taxi/limousine for a livery service, the employer may be held liable for all of the damages that are attributable to the employee's conduct. The key lies in proving that the driver was acting in the course of their employment–if they were driving on their free time in their own vehicle, then you cannot hold their employer liable just because they happen to also be a commercial driver. Additionally, there can be regulations imposing an agency or employment relationship between the driver and the operating company or motor carrier.
Additionally, there may be grounds to hold a commercial company directly liable following a commercial vehicle accident. If the company was itself negligent independent of the negligence of its driver which contributed to causing the collision, then the business may be held responsible and liable for your damages. For example, an employer might be directly liable based on its own negligence in connection with any of the following:
Failing to conduct adequate background investigations into the driver's record or driving history;
Failing to properly maintain the trucks or other commercial vehicles in its fleet
Failing to install proper safety devices in its vehicles
Failing to employee or assign drivers without the requisite professional licenses
Failing to adequately train or supervise its drivers;
The employer encouraged or turned a blind eye to drivers ignoring safety regulations, such as hours of service regulations for truck drivers
Seasoned Advice and Representation for Your Commercial Vehicle Injury Claim from a Dedicated Texas Injury Lawyer
If you've been hurt by a negligent professional driver in Texas, contact the dedicated and effective Beaumont personal injury lawyers at the Gilbert Adams Law Offices for a free consultation on your case at 409-835-3000.