Common Pesticide Roundup the Target of a Growing Number of Lawsuits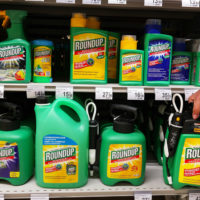 If you've ever worked in agriculture or landscaping, or even maintained a home garden, you've doubtless heard of the pesticide Roundup. The pesticide is a mainstay of home improvement stores and garden sheds across the US, but a growing body of research shows that the compound could cause the growth of a specific and dangerous form of cancer. Read on to learn more about Roundup cancer claims, and contact a Texas personal injury lawyer if you believe you may have a claim for damages for an illness caused by a defective or dangerous product.
WHO finds Roundup "probably carcinogenic"
Roundup is a popular weed- and grass-killing compound, made popular due to the fact that it is successful at killing grass and invasive weeds without damaging crops. Over the course of the last few years, a growing number of studies have linked the active ingredient in Roundup, glyphosate, with cancer. Most notably, a 2015 study by a department of the World Health Organization found that glyphosate was "probably carcinogenic to humans."
Not only has research shown an association between glyphosate and cancer, but individuals who have long used the product are increasingly finding themselves suffering from a form of cancer known as Non-Hodgkin Lymphoma. This disease begins in the portion of the immune system known as the lymph nodes. The cancer grows in lymphocytes, or white blood cells, which then spread throughout the body.
Hundreds of claims filed against makers of Roundup
Glyphosate is a chemical compound discovered and marketed by Monsanto, the makers of Roundup. Lawsuits have been filed against Monsanto across the country on behalf of cancer patients who allege that their Non-Hodgkin lymphoma was caused by exposure to the compound. Plaintiffs allege that Monsanto has known for decades of the risk of cancer to those who use Roundup, but has covered up research showing the association. In one court filing, the plaintiffs claim that Monsanto "led a prolonged campaign of misinformation to convince government agencies, farmers and the general population that Roundup was safe." So far, lawsuits have been filed on behalf of hundreds of plaintiffs. For its part, Monsanto denies the claims that its product is linked to cancer in customers.
If you believe you may have a claim against Monsanto for a Roundup-related illness, consult with a skilled and compassionate Texas personal injury lawyer by contacting Beaumont's Gilbert Adams Law Offices for a free consultation, at 409-835-3000.