Common Types of Truck Accidents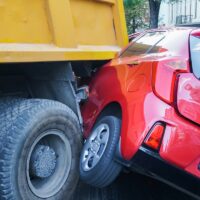 The transportation industry is a vital part of the U.S. economy. We need truck drivers to ferry our goods across the state, country and North America. Tractor-trailers, semi-trailers, eighteen-wheelers and other commercial trucks are a common sight on Texas roads, but they present an enormous risk to other motorists. When these trucks are operated negligently or not safely maintained, a catastrophic accident is likely to occur. Below, we discuss a few of the most common types of collisions that are at especially high risk when dealing with large trucks. If you or someone you love has been hurt or worse in a large truck wreck in Texas, call an experienced Beaumont truck accident injury lawyer for help.
Rollover Accidents
Large trucks are massive vehicles with a higher center of gravity than smaller vehicles. Because the center of gravity is much higher, the vehicle is harder to control, takes longer to slow or stop, and is more challenging to safely operate. For instance, a sudden swerve can cause the trailer to flip over, sending the entire truck onto its side or even into a continuous rolling motion. A rollover accident is extremely dangerous for the driver as well as everyone else on the road, potentially impacting multiple vehicles in multiple lanes of traffic. If the truck was hauling heavy materials or dangerous chemicals, they could spill out onto the road at the time of the accident causing further damage.
Rollover accidents happen for many reasons. The truck driver may be acting negligently or recklessly by speeding, driving while intoxicated, or driving while distracted. Or the truck driver may have simply reacted in an untimely manner. Another driver on the road may be to blame, either hitting the truck or causing the truck to need to swerve suddenly.
Rollover accidents also commonly occur because the trailer was either overloaded or the contents improperly secured or loaded improperly. An imbalanced, unsecured, or overly heavy load can cause the truck to roll over, impacting numerous other vehicles.
Underride and Override Accidents
Underride is possibly the most dangerous type of accident involving large trucks. An underride accident occurs when a large truck makes a sudden stop and a trailing passenger car rides under the trailer. The top of the car may be torn off, causing catastrophic injury to anyone in the vehicle.
Override accidents are also extremely dangerous. An override accident occurs when another vehicle stops in front of the truck and the large truck actually runs over the vehicle in front.
Override and underride accidents are more likely to occur at high speeds or when there is low visibility or poor road conditions due to rain, snow, fog, or ice. Failure to properly yield or otherwise drive responsibly may also lead to one of these deadly accidents.
Jackknife Accidents
Jackknife accidents occur when the trailer attached to the truck swings out at a near ninety-degree angle, winding up almost perpendicular to the truck cab. Jackknife accidents are extremely dangerous because the trailer can swing into traffic, blocking off multiple lanes and leading to a multi-car pileup. The swinging trailer becomes entirely unpredictable and can strike nearby vehicles, sending them careening into other lanes of traffic. Jackknifing trucks can also easily wind up rolling over, causing even more destruction.
Jackknife accidents typically occur when the truck swerves or brakes suddenly, either due to a hazard on the road, the actions of another driver, or the trucker's own distraction, drowsiness, or intoxication. Braking too quickly or turning too quickly in inclement conditions, such as wet or icy roads, also commonly leads to a jackknife accident.
Blind Spot Accidents
All vehicles have blind spots, areas where the driver cannot see other vehicles in their rear-view mirrors; however, semis, box trucks and other large trucks have much larger blind spots than other vehicles. You'll often see text printed on the back or side of a large truck that reads: "If you can't see my mirrors, I can't see you." This is meant to be a warning: If the truck suddenly turns or changes lanes, they are likely to hit a vehicle that is currently riding in their blind spot. If you are driving next to a large truck, make sure to avoid or minimize any time spent driving in the truck's blind spot. Likewise, truck drivers must be aware of their blind spots and take care not to execute a maneuver that might catch another vehicle in one of their blind spots.
Call for Advice and Assistance After an 18-Wheeler Accident in Texas
Our firm has successfully concluded hundreds of commercial vehicle or truck wrecks by trial or settlement. If you've been hurt in an accident with a large truck or any other type of traffic accident in Texas, contact the skilled and trusted Beaumont personal injury lawyers at the Gilbert Adams Law Offices for a free consultation on your case at 409-835-3000.