Concussions and Brain Injury Resulting from Accidents or Falls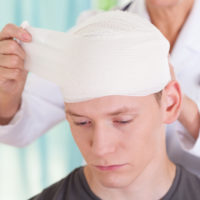 The CDC reports that, during a study of traumatic brain injuries (TBIs) occurring in 2010, approximately 2.5 million Americans either sought emergency room treatment, needed hospitalization, or were killed by a TBI. The most common form of TBI is the concussion, which is often caused by trip-and-fall accidents and motor vehicle, bicycle, or pedestrian accidents, as well as on-the-job injuries. Read on to learn more about concussions and brain injury, and contact an experienced Texas TBI lawyer if you have been injured in an accident.
How do concussions happen?
Throughout a typical day, the cerebrospinal fluid surrounding our brains serves to cushion delicate brain matter against low-key bumps and jostles. Concussions are the result of a sharp blow or jolt to the head. When the head's acceleration or deceleration is sufficiently violent, the brain will slam against the hard shell of the skull, causing temporary loss of function, broken blood vessels, or, in severe cases, a bleed on the brain.
The most common source of TBIs is fall injuries, which are responsible for 40% of all brain injuries in an average year. Children and the elderly are most likely to experience a TBI as the result of a fall; in fact, 81% of all brain injuries suffered by those over 65 are the result of falls. Being struck by a blunt object is the second-leading cause among all ages, and car accidents are the third.
What are symptoms of concussions?
Concussion victims will often experience:
Disorientation or loss of consciousness
Fatigue
Nausea and vomiting
Headaches
Problems with memory or concentration
Irritability or easily becoming frustrated
After a head injury, it is critical that victims seek a doctor's care to find out if they suffered a concussion, so that the condition can be promptly and properly treated, and carefully monitored.
Are there long-term consequences of a concussion?
Some concussion victims will recover from their injuries within a few weeks, with no long-term damage. That said, once someone has experienced a TBI, they become more likely to suffer additional brain injuries in the future.
Additionally, victims who suffered a concussion in a traumatic accident, such as a fall or motor vehicle collision, are statistically more likely to experience post-concussion syndrome. This condition appears in about 10% of all concussion sufferers. Post-concussion syndrome takes hold within a week to ten days after an injury, causing individuals to experience concussion symptoms for an average of three months after an injury. Some post-concussion syndrome patients experience these symptoms for up to a year or indefinitely.
After a concussion, it is important to get sufficient amounts of rest, which may require time away from work or school. Concussion victims who attempt to return to their normal routines too soon after an injury will be more likely to experience a recurrence of symptoms. If you've been hurt in an accident in Texas, such as a car crash or slip-and-fall, contact the seasoned and knowledgeable Beaumont personal injury lawyers at the Gilbert Adams Law Offices for a free consultation, at 409-835-3000. It is important that your symptoms are documented as soon as possible following insult or injury to the head or brain. We know what to do to marshal the proof and evidence of the nature and extent of your head/brain injury.