How Can Construction Accidents be Prevented?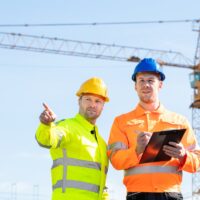 According to the Occupational Safety and Health Administration (OSHA), twenty percent of all workplace deaths occur in the construction industry. Many of these fatalities could have been prevented if many of the parties involved had been following appropriate safety protocols and taken all appropriate precautions. Continue reading for tips on how to prevent construction injuries, and reach out to a knowledgeable Beaumont construction injury attorney if you or a loved one has been injured in a refinery, plant, or on a construction site in Southeast Texas.
Regular Safety Training and Meetings
Safety training is essential for keeping construction worksites safe. Supervisors should ensure each new worker receives the appropriate training concerning applicable safety regulations, the equipment to be used, specific jobs to be performed, etc. Training should be updated as additional hazards are discovered, blind spots are uncovered, new safety rules or policies are implemented, or any other important information arises. Workers should not be permitted to perform certain tasks without adequate training.
Identify Hazards, Make a Safety Plan
At the start of any project, construction teams should inspect the worksite for any hazards, including uneven surfaces, pinch points, working at heights or with elevation changes, and anything else relevant to the health and safety of the crew. Supervisors and safety officers should identify these risks and implement proactive measures to prevent problems that may arise, and inform all workers of the risks and countermeasures.
Adequate and Proper Safety Equipment
Every worksite should provide workers with all the equipment they need to perform their tasks safely and securely. This includes personal protective equipment such as masks, helmets, gloves, eye protection, fall protection and vests, as well as appropriate railings, guards, and other safety equipment for tools and machinery. Supervisors should ensure that all workers are adequately trained to equipment and ensure that no one circumvents the rules for whatever reason.
Daily Site Inspections
Many construction site accidents are caused by a failure on the part of management. This often includes poor planning, violating applicable rules, rushing the work, poor housekeeping and other trip or slip hazards. Crews on other shifts may have failed to perform their work in accordance with instructions or the rules. It is imperative that daily inspection of the worksites occur by qualified safety supervisors, experts or professionals. Managers and supervisors should ensure that the entire worksite is inspected for hazards each morning before starting work, at the end of each day, and periodically during the day as appropriate.
Maintain and Replace Tools
Even with the right tools for the job and proper training, accidents can still be caused by equipment failure. A rusty machine part or an old ladder can collapse, come loose, or give out at the worst possible moment. Construction managers and supervisors should ensure that all of their equipment is properly cleaned and maintained and that any equipment past its prime is replaced as appropriate.
Follow OSHA Guidelines and Report Unsafe Working Conditions
OSHA issues regulations to protect the health and lives of workers across all industries. Employers and employees who skirt these regulations put everyone in danger. Violations of OSHA rules should be recorded and reported to ensure worker safety.
Get the Damages You Are Owed After a Texas Construction Accident
If you've been hurt in a Texas construction accident, contact the passionate and dedicated Beaumont personal injury lawyers at the Gilbert Adams Law Offices for a free consultation on your case at 409-835-3000.