What is a Jackknife Truck Accident?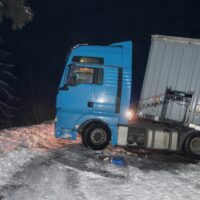 Trucking is a vital industry for the Texas and national economies. Semis (eighteen-wheelers or tractor-trailers) and other large trucks do, however, create a significant hazard for other drivers on the road. Any number of things can go wrong when operating a large truck, from driver error, lack of training, maintenance failures, to inclement weather and the consequences can be horrific. When a large truck collides with a smaller passenger vehicle, there are no "minor" collisions. Catastrophic injury is likely to occur. One of the most dangerous scenarios involving tractor-trailers is a so-called "jackknife" accident.
If you or some you care about has been hurt in a jackknife or other large truck crash in Texas, call a qualified Beaumont truck accident attorney for help seeking compensation.
Semi-Truck Jackknife Accident
Jackknife accidents can occur when a large 18-wheeler semi-truck with a separate cab and trailer loses control. Large commercial trucks have two parts: the tractor and the trailer. The tractor houses the driver and the engine, while the trailer attaches to the back of the tractor and contains the trucker's load. The term "jackknife" refers to situations in which the tractor and trailer swivel at the point where they attach, heading in different directions, such that they form an angle or "V" shape. The shape formed by the tractor and trailer resembles a pocket knife blade or switchblade folding into its handle, leading to the term "jackknife."
What Causes Jackknifing?
Jackknifing can occur when something causes the trucker to lose control. It can happen when trucks are traveling at excessive speeds and are then forced to stop, slow suddenly or make a sudden turn. The sudden movement can lead to the heavy trailer swinging in the wrong direction. Even at low speeds, a sudden, sharp turn can cause a truck to jackknife. Jackknife accidents can also occur as a result of malfunctioning equipment or poor truck maintenance, when hinges, coupling or other truck parts fail to work as designed or intended. Inclement weather and road conditions, such as wet or icy roads, make jackknifing more likely as well.
Risks of a Jackknife Accident
Jackknife accidents are incredibly dangerous for both the truck driver and any other people on the road. The jackknifed truck can easily envelop other vehicles on the road in a high-speed collision or even tip over and fall on top of other vehicles, cyclists, or pedestrians. The truck could tip over, creating a crashing hazard as well as spilling any loose equipment, materials, chemicals, or other cargo being hauled. A jackknife accident can easily lead to a multi-car pileup. Any accidents involving a tractor-trailer or large truck are likely to lead to severe injury, including permanent bodily damage or fatalities and even death.
Get Help from a Seasoned Truck Accident Lawyer After a Texas Traffic Accident
If you've been hurt in a Texas truck accident or car crash, contact the qualified and effective Beaumont personal injury lawyers at the Gilbert Adams Law Offices for a free consultation on your case at 409-835-3000.