Logging Truck Accidents Threaten Lives of Texas Residents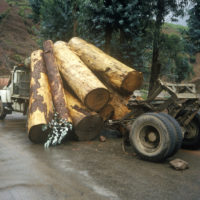 Recent crashes involving log trucks have resulted in the deaths of two Texas residents and injuries to a third person. The accidents are examples of the major damage that can be done by logging truck accidents.
Sadly, a Texas couple was killed after a collision with a logging truck. A senior couple, aged 82 and 84, respectively, were riding in their Lexus along South Lake Drive in Texarkana. The driver attempted to turn left onto Buchanan Road, at which time the Lexus was struck by an oncoming logging truck. The wife-passenger was killed instantly. The driver-husband was taken to Wadley Regional Medical Center, but ultimately succumbed to his serious injuries. The driver of the logging truck was taken to Christus St. Michael hospital, treated, and released. Local police opened an investigation into the circumstances surrounding the accident.
Another wreck involving an East Texas man occurred on Highway 59 in Angelina County. As the logging truck passed through the intersection of Highway 59 and Borden Street in the town of Diboll during morning rush hour, the full load of logs being carried by the truck became loose. Several of the logs slipped off the truck and rammed through the cab of a pickup truck. Despite the truck's cab being obliterated by the logs, the driver was taken to the hospital with serious, but not life-threatening injuries. The driver of the logging truck was not injured.
Fully-loaded log trucks are enormous and extremely heavy vehicles. Their excessive weight makes them difficult to maneuver and timely bring to a stop, increasing the risk of a collision when something unexpected appears in the roadway or due to driver inattention. Not only must the truck itself be in excellent condition, but the logs must be safely loaded and secured to prevent the truck from becoming imbalanced and to prevent the logs from becoming loose. Logs must be under a certain length to be legally transported, and carriers must use special bolsters and tie-downs when transporting logs. Often logging contractors operate on "shoe-string" budgets, increasing safety deficiencies and the risk of collisions and injuries to others. If a logging truck is involved in an accident, skilled investigators and accident reconstruction experts can determine whether the truck was in compliance with these laws and rules, and whether additional claims may apply if not.
If you've been injured in a collision with a log truck, find out if you're entitled to damages for your injuries by contacting the knowledgeable and skilled Beaumont personal injury lawyers at the Gilbert Adams Law Offices for a consultation, at 409-835-3000.