Pipeline Accident Injures Seven, Kills One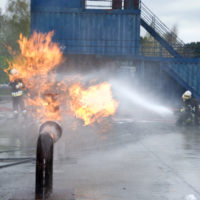 A San Antonio man was killed and several others were injured when a Midland County gas pipeline exploded earlier this summer. Learn more about the accident below, and contact an experienced Texas workplace accident attorney if you've been hurt on the job at a pipeline or construction site.
Explosion along the El Paso Natural Gas Pipeline
The recent explosions and fires occurred in the Permian Basin, the largest oilfield in the US. Numerous pipelines cross the region, making it tedious to immediately identify the leaking pipeline or its operator. On August 1, 2018, an explosion occurred at about 11:30 am near FM 1379, a rural stretch of road roughly five miles south of Highway 158 in Midland County. Workers from both Kinder Morgan and Navitas Midstream Partners LLC were sent to the explosion site, along with emergency response trucks from the Midland County and Greenwood Fire Departments. The failures occurred along lines that supplied local gas to processing plants. It appeared to responders that a section of the El Paso Natural Gas Pipeline, operated by Kinder Morgan, had failed, but workers determined that pipeline belonging to a third, unidentified company had breached before the failure of the El Paso Natural Gas pipeline, ultimately causing the subsequent explosions.
Five injured workers and responders airlifted to Lubbock for treatment
Workers who were focused on extinguishing the flames and shutting off nearby pipelines that were feeding the fires were, unfortunately, present when second and third explosions occurred roughly an hour after the initial explosion. Firefighters from the Midland and Greenwood fire departments, as well as employees from Kinder Morgan and Navitas were among those who suffered burn injuries. Some were airlifted to the University Medical Center in Lubbock, while two others with less severe injuries were treated at Midland Hospital. Several of those injured required prolonged treatment in the University Medical Center's burn unit. Unfortunately, one 63-year-old employee of Navitas and thirty-year veteran of the oil and gas industry succumbed to his injuries. The causes for the pipeline breaches and subsequent explosions were not finally determined and are still under investigation by local authorities and the companies whose pipelines are involved.
If you or someone you love has been injured in a Texas refinery or gas pipeline accident, leaving you with expenses resulting from the accident, contact the seasoned and effective Beaumont personal injury attorneys at the Gilbert Adams Law Offices for help seeking the damages you're owed by calling 409-835-3000 for a free consultation.