Can You Sue for Burn Damage From an Airbag in Texas?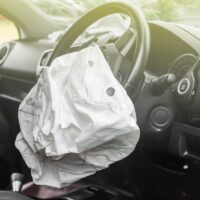 Airbags are intended to save lives. They are the last line of defense to minimize or reduce the risk of catastrophic injury in a serious car crash They were designed to stop an occupant's head and chest from colliding with the steering wheel, dashboard, window, or other unsafe surface. However, not all airbags work as designed. Drivers who depend on airbags to save their lives may have the right to recover for injuries that result from the failure of the airbag. When an airbag fails to inflate timely or fully, or the airbag contains a defect that leads to a burn injury, airbag and vehicle manufacturers may be held liable for the damages that result. Read on to learn about airbag burn injuries and when they are compensable, and reach out to an experienced Beaumont car crash and defective product lawyer if you have been hurt due to a faulty airbag or other auto manufacturing defect.
How Airbags Cause Burns
Unlike other inflatable devices (such as a balloon), airbags must inflate immediately in order to be effective. Recent model automobiles are built with sensors that detect sudden deceleration. When there is sudden deceleration, a chemical blast immediately inflates the airbag by producing heat. Airbags are supposed to be designed to contain that chemically-produced heat. If the airbag is well-designed, occupants should not be injured by this combustion process.
Defectively designed airbags may fail to contain the heat. Airbags manufactured by Takata, for example, have led to numerous recalls over the last few years because they were defective in design and manufacture. The airbags failed to adequately contain the chemicals used to inflate the bag, putting vehicle occupants at risk of serious chemical burns at the time the airbag inflates. The metal cartridges containing the propellant in Takata airbags also were known to violently rupture, sending metal shards flying around the car upon airbag inflation. Other airbags could contain similar defects.
If Your Airbag Was Defective, You Can Recover
If an airbag is defective either as designed or as manufactured, then any injury caused by that defect can give rise to liability. If an airbag fails to contain the chemical heat when inflated, vehicle drivers and passengers are at risk of suffering serious chemical burns to their eyes, face, and other exposed skin. Those types of injuries are not inherent to any vehicle crash; instead, they are specifically caused by defective airbags.
In order to recover based on a defective airbag, an accident victim must be able to show that the airbag itself was defective, that the defect directly caused the injury, and that the victim did not conduct their own alterations to the vehicle that might have affected the airbag's deployment (essentially, the victim may need to show that the airbag car is still in factory condition). While proving that an airbag that failed to deploy was defective is relatively straightforward, proving that an airbag that did deploy as intended or designed can be much more challenging. There are other potential automobile marketing, design and/or manufacturing defects that could contribute to cause or enhance injuries in a collision. In the event of an automobile collision causing serious personal injuries, you should immediately consult with an experienced product defect attorney to assist in the evidence preservation and investigation of the collision to determine if others may be at fault and responsible for some or all of your damages.
Trusted Advice and Representation for Your Texas Traffic Accident Injury Case
If you've been hurt in a Texas car or truck crash, contact the dedicated and consistent Beaumont personal injury lawyers at the Gilbert Adams Law Offices for a free consultation on your case at 409-835-3000.