What Are the Elements of a Bad Faith Insurance Claim in Texas?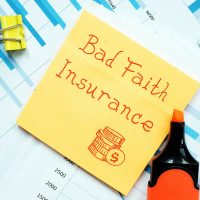 Insurance companies make money by collecting premiums, not by paying out on claims. Unfortunately, most insurers find any reason they can to deny a claim in an effort to avoid or delay payment of the claim. While insurers often seek to avoid or limit damages, they cannot use underhanded tactics to improperly deny or delay payment of a just claim. It is also illegal for insurers to use tactics including deception or coercion in efforts to induce a claimant into either accepting less than their claim is worth or dropping their claim entirely. When an insurance company uses inappropriate tactics to avoid paying what they owe, they may be guilty of insurance bad faith. Continue reading to learn about insurance bad faith, and if you have been subjected to bad faith conduct by an insurance company in Texas, call our Beaumont bad faith insurance lawyer for advice and representation.
Common Law Bad Faith
Texas law recognizes two different types of bad faith insurance claims: common law bad faith and statutory bad faith. "Common law" refers to causes of actions that have developed over centuries through court opinions, as opposed to causes of actions that are created by the legislative branch.
In Texas, an insured may bring a common law bad faith insurance claim against an insurance company that unreasonably denies or delays a claim, even though liability was reasonably clear. To bring this sort of bad faith claim, the plaintiff must prove that their coverage was unreasonably denied or delayed and that the insurance company should have known the claim was meritorious. It's not enough for the plaintiff to successfully appeal a claim; rather, the insured must demonstrate that the insurer had good reason to know its liability to pay the claim was reasonably certain, that the insurer knew the claim should be granted and still chose to deny the claim or engage in other conduct to unreasonably deny the claim.
Statutory Bad Faith Insurance in Texas
Texas law also identifies specific conduct that may give rise to a bad faith claim. Chapter 541 of the Texas Insurance Code identifies "unfair methods of competition and unfair or deceptive acts or practices," sometimes referred to as bad faith conduct. The law identifies a range of improper insurer conduct, including but not limited to:
Misrepresenting the terms of a policy
Misrepresentations intended to cause a policyholder to allow a policy to lapse (e.g., to miss premium payments) or otherwise forget or surrender the policy
Making misleading or untrue statements in advertising an insurance policy
Misrepresenting material facts in a claim
Failing to reasonably explain why a claim was denied
Denying a claim after failing to conduct a reasonable investigation
Failing to render a decision within a reasonable period of time
Refusing to reach a reasonable settlement
Attempting to claim a full settlement has been reached when only a partial settlement has been reached
A wide range of conduct can fall within the "bad faith" umbrella. Acts or omissions that unduly burden the policyholder or attempt to coerce or deceive them into receiving less than they are due under the policy may be considered insurance bad faith. Between the statutory and common law bad faith causes of actions, bad faith conduct may include:
Failing to communicate with a policyholder about a claim
Continuing to request unnecessary documentation in order to delay adjudication or unduly burden and bully the claimant into giving up their claim
Unjustifiably delaying decision-making or payment of claims
Failing to acknowledge receipt of a claim
Deliberately undervaluing claims
Withholding information about a claim
Using threatening or abusive tactics to discourage claims
Proving Bad Faith Insurance Claims
Proving insurance bad faith requires more than demonstrating that a claim was wrongfully denied or that benefits were delayed. A simple error is not enough. The plaintiff must show that the insurance company engaged in unreasonable or grossly negligent conduct which was a cause of recognized damages.
For example, if the company conducts an investigation, learns that the claim should be accepted, and then deliberately lies to the insured by saying the claim is not covered, the insurer would be liable for bad faith for the policy benefit as well as damage caused, including potentially attorneys fees. If the insurer barely conducts any investigation and just summarily denies the claim, it could be liable for engaging in bad faith conduct.
Call for Help With an Insurance Bad Faith Claim in Texas
If your insurance claim was wrongfully denied or if you've otherwise been subjected to bad faith conduct by an insurance company, contact the knowledgeable and accomplished Beaumont bad faith insurance lawyers at the Gilbert Adams Law Offices for a free consultation on your case at 409-835-3000.