Preventable Auto Collision Claims Another Life in Southeast Texas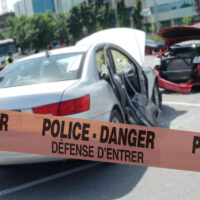 A Beaumont man was killed recently in a motor vehicle collision on Highway 90 just west of Beaumont.  The accident represents another one of the dozens of persons involved in fatal automobile collisions in and around Beaumont each year, a relatively high number for a city with a population of just under 120,000.  Read on for details about the crash, and contact a seasoned Beaumont car accident attorney if you or a loved one have been injured or killed in a Texas automobile collision.
Intersection Collision
A 61-year-old Beaumont man was heading southbound on Keith Road in a Ford Fusion on a recent Friday morning.  At around 7:30 a.m., a pickup truck headed westbound on Highway 90 pulled out into the intersection at Keith Road.  Investigating authorities indicated that one of the motorists failed to yield to the other's right of way. The pickup truck crashed into the driver-side door of the Ford Fusion.
The Beaumont man was pronounced dead at the scene.  The driver of the pickup was reportedly not seriously injured in the accident.  Police were still investigating the cause of the collision as of this writing and had not yet announced any criminal charges.
Beaumont sees dozens of traffic deaths every year
The accident adds another fatality to Beaumont's list of deadly accidents each year.  The majority of the accidents in Beaumont occur on the major freeways and highways, including Highway 90, Highway 69, and Interstate 10.  In 2017 alone, there were 27 vehicles involved in 16 fatal accidents, killing 19 people in Beaumont.  Six of the collisions involved pedestrians.  Every year there is a significantly higher rate of deadly accidents in Beaumont than the rest of Texas. 
Alcohol usage appears to be a contributing factor to several of these crashes. Five of the fatal Beaumont crashes in 2017 reportedly involved impaired persons.  That means that nearly a third of fatal accidents involved alcohol.  If a drunk driver killed your loved one, you might have a claim not only for compensatory damages but also for punitive damages as well.  A dedicated personal injury attorney can help you hold drunk drivers responsible if they cause tragedy for your family.
Gilbert Adams Law Offices was founded in 1930 and specializes in helping victims recover medical expenses, lost wages and other damages caused in preventable collisions.  If you or someone you love has been injured in a traffic accident in Texas, contact the dedicated and effective Beaumont personal injury and wrongful death attorneys at the Gilbert Adams Law Offices for help seeking the damages you're owed by calling 409-835-3000 for a free consultation.