Beaumont Construction Accident Leads to $4.8 Million Settlement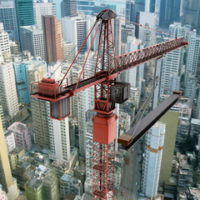 A crane accident at a construction site along U.S. Highway 69 in Beaumont left two people injured in 2016. After a lengthy court battle with the parties responsible for the construction and maintenance at the worksite, the injured plaintiffs settled for nearly $5 million on the eve of trial. Continue reading for more about the Beaumont accident and settlement, and contact a seasoned Texas construction accident lawyer if you've been hurt on a construction site.
Crane drops highway sign in the middle of traffic, injures two
In February 2016, a mobile crane truck was lifting a large sign frame into place on the side of Highway 69 near Lucas Drive. The crane tipped and fell into moving southbound traffic. The crane boom dropped onto a car driven by a 26-year-old Groves resident. The crane crushed the roof of the car and injured the man. A second car, driven by a 59-year-old Beaumont woman, was then struck by the swinging boom.
The two plaintiffs sued the construction company responsible for the worksite as well as the company operating the crane. The Groves man was cut severely on his head and developed a brain injury, and he also suffered injury to his back. According to the plaintiffs, he incurred medical expenses exceeding $200,000 as a result and suffered cognitive loss and memory issues. His injuries prevented him from becoming an electrician as planned. The Beaumont woman suffered injuries to her neck and lower back, leading to ongoing pain and discomfort and requiring continuing physical therapy. She incurred around $115,000 in medical expenses.
Safety Violations in Construction Site Lead to Accident
The plaintiffs alleged that the crane operator was acting unsafely by lifting the sign without using the crane's outriggers. Outriggers support the base of a crane and improve stability during operation. Without the outriggers, the crane became unstable and could not keep its balance. At his deposition, the defendant's representative admitted that failure to use the outriggers was reckless and dangerous. With these facts, the parties were on the verge of beginning trial when they reached a settlement. The plaintiffs received $4.8 million, $3.8 million of which went to the 26-year-old man and $1 million to the 59-year-old Beaumont woman.
If you or someone you love has been injured on a construction site in Texas, contact the skilled and dedicated Beaumont personal injury and wrongful death attorneys at the Gilbert Adams Law Offices for help seeking the damages you're owed by calling 409-835-3000 for a free consultation.