Most Common Construction Accidents in Texas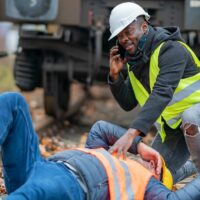 Construction is one of the most dangerous industries in the United States. Worksite injuries and fatalities can result from a variety of different accidents. Construction accidents are preventable with proper safety training, equipment, and implementation. Read on for a discussion of the most common construction accidents, and call a knowledgeable Beaumont construction accident attorney with any questions or for help recovering after a Texas construction worksite accident.
Falls
Many construction jobs involve working at elevated levels. Those who work above the ground are exposed to additional risk. Many workers are seriously injured or killed each year when ladders fail, scaffolding collapses, or a slip/trip causes a worker to fall.
Pinch points – Caught or stuck in-between
Pinch points increase the risk for construction workers to get caught in any of the pieces of heavy machinery that are on construction sites. Workers can trip, slip or fall into machinery or get too close and lose a finger, hand or foot. Heavy objects or machinery may come loose and trap workers in-between two heavy objects causing a crush injury. Insufficiently supported structures may collapse and crush workers. Caught or stuck in-between accidents represent over five percent of construction worksite deaths each year.
Hit or Struck by object, tools or equipment
Construction workers often use heavy tools and materials at multiple elevations. Other workers and bystanders are at risk of getting struck by a falling or flying object, even while at the same elevation or down a ramp, where workers can be struck by shifting, rolling or thrown objects. Workers can easily suffer head trauma, injury to the eyes or other parts of the face and body, or be knocked into a different hazard.
Electrocution
Along with falls, caught in-between, and struck by an object, electrocutions round out the "fatal four" construction accidents according to OSHA. Electrocutions account for close to ten percent of fatal construction injuries each year. Workers are regularly exposed to heavy machinery, and a misplaced wire or failure to use proper grounding, gloves, or goggles can lead to a serious or fatal injury.
Slips, Trips or Falls
Slips, trips or falls are among the most common workplace injuries across all industries, and construction is no different. Workers might leave equipment, tools, or pieces of machinery discarded around the worksite, creating the risk of a trip and fall. Areas may be poorly lit, and spills on slippery surfaces or from hazards are a regular danger. Because construction workers are surrounded by any number of hazards, a slip & fall can easily lead to serious injury or worse. Through housekeeping like cleaning up all spills, putting away all tools and equipment, and keeping an eye out for slippery or uneven surfaces, many injuries can be avoided.
Vehicle Collisions
Construction worksites are often located on or near busy thoroughfares, exposing workers to negligent drivers who fail to take precautions. Additionally, worksites employ a variety of vehicles for transporting people, or equipment, and performing various tasks on a construction site. Lack of training or negligence can lead to a worker inside or outside of a vehicle suffering serious injuries.
Help Recovering the Damages You Deserve After a Texas Construction Accident
If you've been hurt in a Texas construction accident, contact the seasoned and effective Beaumont personal injury lawyers at the Gilbert Adams Law Offices for a free consultation on your case at 409-835-3000.