Debunking Common Myths Regarding Truckers and Truck Wrecks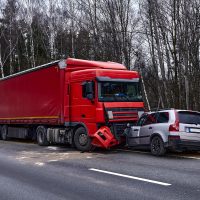 If you've been hurt in a collision with an eighteen-wheeler, a big rig, or any other commercial truck or vehicle, you are probably looking for help. Unfortunately, there is much disinformation on the internet or even from well-meaning friends and family members about truck crashes and legal claims. Below, we discuss and dispel a few common misconceptions about trucking accidents, truck drivers and trucking companies. If you or someone you love has been hurt or worse in a truck accident in Texas, call a zealous Beaumont truck accident injury lawyer at the Gilbert Adams Law Offices for help.
Myth: All Truck Drivers Are All Well-Trained
Driving a large commercial truck requires a special driver's license known as a commercial driver's license or CDL. You might think that means that anyone who gets behind the wheel of a big rig has months or years of training and has driven with and been trained by qualified experts to make sure they know what they're doing. Increasingly, this is not true. With companies like Amazon fiercely competing for your business with promises of same-day deliveries, the demand for drivers is growing at a faster rate than the supply of qualified truck drivers. The result is predictable: unqualified, unsafe and overworked drivers are all too often behind the wheel of these large vehicles.
Many trucking companies simply hire the cheapest labor available without conducting thorough background checks to make sure their drivers are qualified by experience and proper training. They might have little experience, they might not have been trained alongside truck driving pros, and they might even lack required certifications.
Myth: Trucking Companies and their Insurers will accept Responsibility for Crashes caused by their negligent Drivers
The adjusters for the trucker's insurance company are often initially nice and seem considerate, but make no mistake: they are trying to gather evidence to defeat, devalue and minimize your claim. These insurers often make small concessions like providing a rental or making statements such as "Send me your medical bills" to give the impression that they will actually pay the medical bills when they have no intent to do so.
Some people expect the process to be quick and easy and erroneously think the trucking company has a large insurance policy that will pay for all of your damages quickly and without any hassle. This is definitely a myth.
Insurance adjusters and investigators want to please their supervisors and their insureds and will go to great lengths to avoid having to pay anything or at least limit your damages. Remember, they do this for a living and they don't get promotions by routinely paying out claims. Even if they concede small things like a rental car, the adjuster or investigator often has ulterior motives. If you want to make sure that you are fully compensated for all of your damages including past and future medical expenses, lost wages, loss of earning capacity, pain and suffering, mental grief and anguish, physical impairment and all of the other damages you are entitled to recover as a result of the truck crash, you need a seasoned truck accident lawyer on your side. This is what we do at Gilbert Adams Law Offices.
Myth: Required Rest Breaks Are Strictly Enforced
Driving these large, heavy big rigs isn't the same as operating a passenger vehicle. It often requires long, punishing and often tedious hours behind the wheel. Truck drivers are prone to fatigue, drowsiness and distraction. Self-medicating with pills, alcohol and even over-the-counter therapies such as cough syrups is not uncommon. To curb these dangers, federal law puts limitations on the number of hours a trucker can drive before taking legally mandated breaks. Federal law found in the Federal Motor Carrier Safety Regulations limits driving hours per shift, per day, per week, etc.
Unfortunately, not all truckers follow the law. With many paid by the mile and by the job, truck drivers are financially incentivized to finish jobs quickly in order to take the next delivery which leads to speeding, distraction and fatigue. Trucking companies may turn a blind eye or even encourage employees to flaunt federal "hours of service" regulations in order to turn a bigger profit. Drivers who fail to comply with these safety rules expose all of us to serious risk of personal injury and death.
Call for Help Obtaining Compensation After a Big Rig Crash in Texas
Our firm has successfully concluded hundreds of commercial vehicle or truck accident injury claims by trial or settlement involving hundreds of millions of dollars over our 90+ years of representing victims of negligent drivers and their Families. If you've been hurt in a collision with a commercial truck or any other type of vehicle crash, contact the experienced and effective Beaumont personal injury lawyers at the Gilbert Adams Law Offices for a free consultation on your case at 409-835-3000.