Factors Affecting the Value of Your Car Accident Claim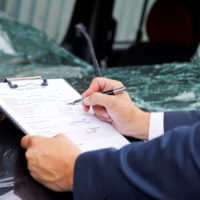 Getting hurt in a Texas motor vehicle accident can send your life into a tailspin. In trying to figure out how you should proceed in finding a temporary or permanent replacement vehicle or treating your injuries, you may be wondering about how much you can expect to recover from an insurance settlement or personal injury lawsuit based on your accident. Below, you'll find a number of factors that insurance claims adjusters and courts will consider when evaluating your claim for damages after a car accident. If you have questions about your case, or want to ensure you receive the best recovery possible on your claim, contact a seasoned Texas car accident lawyer for a consultation.
Factors that will affect your accident claim's value include:
Your injuries

The first factor that any insurer will evaluate will be the type and degree of physical injuries you received in a crash. If your injuries will require life-long treatment and rehabilitation or have permanently affected your ability to earn a living in your chosen profession, then the amount you receive in a settlement will be more substantial. If your injuries are of a type that respond well to treatment, then damages will be smaller. If the injuries aren't visible or easily explained to a jury, then experienced attorneys can use alternative ways to demonstrate those injuries to maximize the recovery.. Often, such accident victims need the help of a skilled lawyer to obtain the full damages they're owed for these types of less-obvious injuries.

The at-fault driver

If the driver who was at fault for your accident was behaving highly irresponsibly prior to the crash and appears able to cover a substantial award of damages, then a jury would be more likely to award you a larger amount in damages (and if the jury would be more generous, then an insurer is more likely to be generous in making an offer to settle). If a defendant has little in assets and minimal insurance coverage, and the driver made an understandable error while driving, this could affect the amount of the award.

Evidence in support of your claims

Even if you're certain that the other driver was entirely at fault for your accident, it is unlikely that you'll convince a judge or jury to believe this fact without factual support for your claims. An attorney can hire expert witness(es) to support your claims, such as an accident reconstruction expert who can support your version of events, as well as find witnesses to an accident or video footage obtained from surveillance cameras nearby. Also, it may be helpful to hire medical, vocational and/or economic witnesses regarding the amount of your damages.

Whether you're represented by an experienced attorney

Insurance companies assume that the average accident victim doesn't know how to properly value their claims and likewise what constitutes a good or bad settlement offer. Additionally, they will assume that you do not know the rules regarding prosecuting your claim. However, they know that experienced personal injury lawyers can evaluate a claim and determine what the victim is owed, and that a good lawyer won't stop until they obtain the recovery that the client deserves. Having a lawyer file your claim, even if you hope to avoid going to court, will help you receive all that you're owed from an insurer.
If you've been injured in an accident in Texas, contact the effective and aggressive Beaumont personal injury lawyer Gilbert Adams for a consultation, at 409-835-3000. We have been representing injured victims, workers and their families since 1930 – more than 85 years.