Middle School Student Dies in Beaumont Area Crash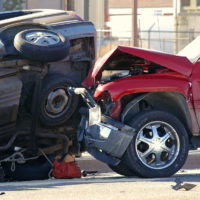 A major car crash near Pine Forest caused the death of a young middle school student on a recent Wednesday. Two adults were also injured in the collision, leading to their hospitalization. Read on for details about this tragic episode, and contact a seasoned Texas car accident lawyer if you or a loved one has been hurt in a traffic collision.
Head-On Collision in Beaumont Sends Three to the Hospital, Leads to One Death
At around 8:30 p.m. on a recent Wednesday night, law enforcement officials responded to reports of an accident in nearby Orange County. According to the officials, a 2014 Kia passenger car was traveling north on FM 105 when it attempted to make a left turn onto Lakeview Cutoff near Turning Point Church. The Kia reportedly pulled into the path of an oncoming 1993 Chevrolet pickup truck heading south on FM 105. The pickup crashed into the passenger-side door of the Kia. All northbound and southbound lanes of FM 105 were closed for around 45 minutes while the victims were treated and evacuated to local hospitals and the investigation and cleanup were ongoing.
The Kia's passenger was an 11-year-old fifth-grade student at Vidor Middle School. The boy was severely injured in the crash and taken to a nearby hospital. Unfortunately, he succumbed to his injuries and passed away just after 9 p.m. The boy's mother, a 39 year-old-woman from Vidor, was driving the Kia. She was taken to the hospital with serious injuries. The driver of the Chevrolet, a 41-year-old Vidor man, was also taken to the hospital with serious injuries.
The cause of the accident remains under investigation, and no one has yet been charged. The middle school issued a statement to all the students and staff about the accident.
Fatal Texas Car Crashes Show Alarming Rising Trend over Last Decade
According to the Texas Department of Transportation, over 3,700 people are killed in traffic accidents across the State of Texas each year. Tens of thousands are also injured. There was a slight decrease in the number of traffic fatalities in 2017 from the previous year, although there has been a steady rise in traffic deaths since 2010. 2018 data is not yet available.
If you or someone you love has been injured in a traffic accident in Texas, contact the skilled and dedicated Beaumont personal injury and wrongful death attorneys at the Gilbert Adams Law Offices for help seeking the damages you're owed by calling 409-835-3000 for a free consultation.