Fatal Crash in Jefferson County Involving 18-Wheeler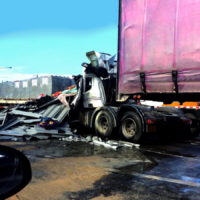 The trucking industry is an important and pervasive part of life in Texas. However, large trucks are dangerous at the best of times, and any distractions or mistakes can be fatal for other people on Texas roadways. A recent accident in Port Arthur became one of the thousands of fatal truck accidents occurring across the state each year. Read on for details about the collision, and contact a dedicated Texas truck accident lawyer if you've been hurt in a trucking accident.
Port Arthur truck crash kills one
The 1600 block of Highway 73, near TX 82, was shut down in both directions for several hours on the night before Independence Day celebrations kicked off this year. At around 6 p.m. on July 3, police responded to 911 calls about a major accident on TX 73 involving an 18-wheeler and an SUV. According to the officials, the SUV turned in front of the tractor-trailer, and the 18-wheeler struck the SUV. The impact caused a fire in the SUV and trapped several people inside. Upon their arrival, officers cut the SUV occupants from the vehicle.
Police reportedly discovered the driver, a 20-year-old resident of Sour Lake, already deceased at the scene. A passenger in the SUV was taken to a nearby hospital in serious condition.
Most commercial trucks on the road today have GPS or crash data recording devices that confirm these collisions were preventable by the exercise of reasonable care. It is important that the data from the devices is properly preserved.
Truck accidents in Texas
Traffic accidents remain a major problem on Texas roadways. According to the Texas Department of Transportation (DOT), there were 3,721 traffic fatalities statewide in 2017. In Jefferson County alone, 37 people died in traffic accidents that year. The number of injury crashes is even more alarming: 254,843 people were injured in traffic accidents statewide in 2017, and 35,635 of those injury crashes involved commercial vehicles like large trucks. Nationwide, there were 116,000 injury crashes involving large trucks and buses leading to 5,005 fatalities in 2017.
We previously discussed a change in the hours of service regulations for truck drivers. Hopefully the new standards set by the FMCSA will have a positive effect on the number of injury and fatal crashes involving large trucks but, in the meantime, if you are injured by a negligent truck driver or trucking company in Texas, reach out to a qualified truck accident attorney to find out if you are entitled to damages.
If you or someone you love has been injured in a truck accident in Texas, contact the seasoned and talented Beaumont personal injury and wrongful death attorneys at the Gilbert Adams Law Offices for help seeking the damages you're owed by calling 409-835-3000 for a free consultation.