Fatal Workplace Injuries Rise for Third Consecutive Year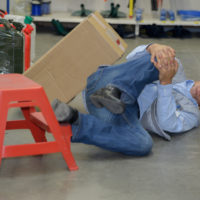 Recently-released data shows that the total number of fatal accidents on the job rose for yet another year, and that the reasons that workers are dying on the job have begun to shift in troubling new directions. Read on to learn about the most recent data on fatal workplace injuries in the US, and contact a seasoned Texas workplace injury lawyer if you've experienced an on-the-job injury or accident.
In December, the US Bureau of Labor Statistics (BLS) released its annual report on fatal workplace accidents. According to its report, the total number of on-the-job fatalities in the US in 2016 rose 7.7% over last year's total to 5,190. This is the first time that more than 5,000 people have been killed while at work in a single year since 2008. Workers died at a rate of 3.6 for every 100,000 full-time-equivalent workers, a rise from last year's rate of 3.4 per 100,000 and the highest rate of workplace fatalities since 2010. The industry with the highest rate of fatal injury was that of logging, where there were 135.9 fatalities per every 100,000 workers. Beyond loggers, the fields with the highest rates of fatal injury were those of fishing, aviation, and roofing.
Transportation-related accidents took the top slot as the most common cause of fatal workplace injury, causing 2,083 total deaths, or 40% of all workplace fatalities. Of these, 1,252 were roadway deaths. What startled some safety experts was the fact that violence or other injuries caused by humans or animals had risen to the second most common cause of workplace fatalities. Homicides on the job rose by 19.9% in 2016, from 417 to 500. The total number of workers who died by suicide also rose, from 229 in 2015 to 291 in 2016. Another increasingly-common source of on-the-job fatal injuries is that of drug overdose. 217 workers died after the nonmedical use of alcohol or drugs in 2016, an increase of 32% over 2015's total. Slips, trips, and falls made up the third most-common cause of death.
Workers who are hurt on the job, or families of workers killed on the job, may have a right to compensation for their injuries or death. Injured workers are advised to contact an experienced workplace injury attorney as soon as possible after an accident to protect their rights and explore their legal options.
If you or someone you love has been injured in a workplace accident, contact the dedicated and effective Beaumont worker injury lawyers at the Gilbert Adams Law Offices for a free consultation at 409-835-3000.