Interstate vs. Intrastate Trucking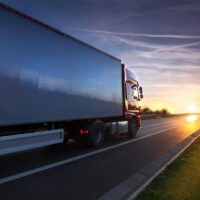 The two terms look and sound nearly identical: interstate trucking and intrastate trucking. However, they are different and the distinction matters. If you've been in an accident involving a commercial vehicle, the difference between whether the at-fault driver was engaged in interstate or intrastate commerce driving can be a vital factor in your personal injury case. Continue reading to learn about the differences between interstate and intrastate trucking, and call a seasoned Beaumont truck accident lawyer for help with a truck accident claim.
Defining Interstate and Intrastate Trucking
Interstate trucking refers to driving a commercial motor vehicle across state lines, including outside of the country, in order to transport cargo. Interstate trucking also includes transportation of goods within a state's boundaries if the ultimate destination of the cargo is outside of the state.
Intrastate trucking, on the other hand, refers to the commercial transportation of cargo solely within a single state. The transportation of goods must be limited to within the state's boundaries, and the driver's commercial activities must not otherwise fit legal descriptions of "interstate commerce." If a driver hauls goods from one point within the state and those goods are destined to travel only to another place within the same state, then the driver is engaged in intrastate trucking.
Why the Distinction Between Interstate and Intrastate Trucking Matters
There are several very important legal distinctions between interstate or intrastate driving or transportation. Whether the trucker or driver crosses state lines will determine which sets of laws apply to the driver, the vehicle, the company, and the goods. Truckers who engage in interstate trucking must comply with the rules and regulations dictated by the Federal Motor Carrier Safety Association (FMCSA), which issues comprehensive rules regarding the weight and security of hauls, truck driver hours of service and rest break requirements, and many other issues.
Interstate truckers will also need to worry about cross-state licensing and whether their insurance covers accidents across state lines. An intrastate driver who gets into a wreck outside of the state, for example, may trigger penalties for the driver and the freight company, and their insurance provider might refuse to cover the damages.
Drivers who stick with intrastate trucking, on the other hand, are subject to the rules and regulations of the individual state, and to the appropriate state regulatory agency. In Texas, intrastate trucking is governed by the Texas Department of Public Safety and the Texas Motor Carrier Safety Regulations (TMCSR).
Key Differences Between Federal and Texas State Driver Regulations
There are many differences between the regulations issued by the FMCSA and the TMCSR. A few important distinguishing regulations include:
Hours of Service Regulations. Both state and federal regulators impose restrictions on how many hours a trucker can operate without taking a proper rest break, as well as how many days in a row or hours in a week a trucker may drive. The requirements differ under the two sets of laws. Texas law sets a maximum 12 hours of driving time after eight consecutive off-duty hours; federal law sets a maximum 11 hours of driving time after ten consecutive off-duty hours. Intrastate drivers in Texas may not drive at all after having been on duty for 15 hours.
Exempt Vehicles. Texas law exempts certain types of vehicles from regulation, such as farm vehicles below a certain weight. These vehicles are not exempt from the federal rules.
Insurance Requirements. Different types of commercial vehicles have different minimum insurance requirements. The low end requirements in Texas are below the lowest level of insurance required for vehicles under federal trucking laws.
It Matters After an Accident With a Commercial Vehicle
If you've been in an accident with a commercial vehicle, it's vital to know whether the driver was engaged in interstate or intrastate trucking. Different safety rules and regulations apply, and different state or federal agencies may be involved in the investigation. In order to build the strongest case for maximum recovery, your experienced truck accident lawyer will need to stick to the appropriate set of laws and obtain information and evidence from the correct sources.
Seasoned Advice and Representation After a Truck Accident in Texas
If you've been hurt in a truck accident in Texas, contact the experienced and knowledgeable Beaumont personal injury lawyers at the Gilbert Adams Law Offices for a free consultation on your case at 409-835-3000.