Recent Wave of Large Truck Accidents Mark an Overall Increase in Texas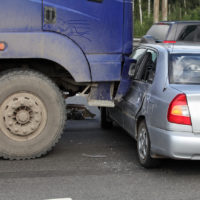 A recent collision outside the city of Beaumont involving a semi-truck claimed the lives of a Georgia family and injured numerous others. Traffic congestion resulting from an accident earlier in the morning involving a different 18-wheeler had caused traffic to come to a stop. A second 18-wheeler failed to maintain control over its speed and struck at least three other cars. Our firm represents one of the victims. These accidents are part of a national uptick or increase in the number of large truck crashes and accidents in recent years, although safety engineers are hopeful that new crash-prevention technology can buck the trend. Continue reading for more about these accidents and the recent wave of truck crashes, and contact a skilled Texas truck accident attorney if you've been injured in a truck accident.
Georgia woman and her three kids killed in fiery multi-vehicle crash
Westbound lanes of Interstate 10 at Major Drive were closed on a recent Thursday after an eight-vehicle pileup. An 18-wheeler struck a car and a pickup truck on the Major Drive overpass at around 6:30 a.m. Five more cars (for a total of seven passenger vehicles and the semi) were eventually caught up in the crash; several of them caught fire as a result of the accident. A hazardous chemical spill was also tied to the accident. The occupants of one of the cars caught in the wreck were killed, including a 36-year-old woman from Georgia and her three children, aged 6, 8, and 10.
The accident occurred two and a half hours after a different 18-wheeler was rear-ended by a 45-year-old Lake Charles man driving a pickup truck just a few miles down the road. The pickup driver was killed. The earlier accident was still being cleared at the time of the second collision.
Texas state and Beaumont city officials are currently considering dropping the speed limit on Major Drive from 55-60 miles per hour (depending on the location) down to 50. The Texas Department of Transportation made the recommendation based on the spate of accidents on the stretch of interstate; according to official reports, the crash rate near Major Drive is three times the state average.
Trucking accidents on the rise, but new safety technologies may be the solution
There has been a steady rise in the number of large truck crashes in the past few years, according to statistics from the Federal Motor Carrier Safety Administration. 2016 saw over 4,200 fatal truck accidents across the U.S., more than a 25 percent increase since 2009. In the same timeframe, the number of injury accidents involving trucks or buses nearly doubled to over 110,000 in 2016.
The Insurance Institute for Highway Safety believes that new crash-prevention technology could prevent or mitigate the seriousness of these accidents. Technology such as front-crash warning, lane-departure warning, and automatic emergency braking systems already exist but are not yet required standard equipment for all large trucks. Truck accidents are often caused by, for example, the driver's inability to see other cars in one of the truck's large blind spots, but while blind-spot warning systems exist, most trucks still do not have them installed.
According to safety think tank Securing America's Future Energy, only around 15% of large commercial trucks utilize these crash-avoidance technologies. Some fleets, thankfully, are starting to upgrade their truck systems or focus on purchasing new trucks with those systems involved. UPS, for example, now has nearly half of its fleet equipped with some form of crash-avoidance system. In the meantime, other motorists should be wary of large trucks on interstate highways, particularly in the early morning or late-night hours.
If you or someone you love has been injured in a truck accident in Texas, find out if you have a claim for money damages by contacting the experienced, passionate, and skilled Beaumont personal injury lawyers at the Gilbert Adams Law Offices for a free consultation at 409-835-3000.