Ten Steps to Take if You Are in a Texas Car Crash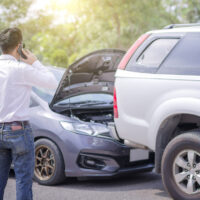 It is important that you are prepared to protect your health and legal rights if you are involved in an automobile collision.  If you've never been in a car wreck, you may not be sure of what to do first. You'll be on the right path of ensuring your legal rights are protected by taking a look at the following suggested steps to take after a collision. Contact an experienced Beaumont car accident attorney with any additional questions after a crash in Texas or the USA.
Assess your condition and that of others involved to mitigate further injury or collisions: Automobile collisions often cause serious injury. The first thing you should is contact 911 so that law enforcement and emergency medical technicians will be dispatch to the scene.

 

Assess your medical condition and that of others to see if there is anything that can be done while waiting for EMTs to arrive at the scene. Additionally, consider whether emergency flares or other warnings are necessary to prevent you from being struck again by oncoming motorists.

 



Document the scene of the accident: The position of the cars after the crash, skid marks on the road, or damage to each vehicle can all provide important evidence in proving which driver was at fault in a collision. If it is safe to do so, take as many photos of the scene and all automobiles involved in the crash.

 

As well, take a picture of the license plate and any other insignia in the event the other driver(s) attempt to leave the scene.
Wait for the police to arrive: Make sure law enforcement is notified and responds to the scene of the collision.

 

The information gathered by the investigating officer can be critically important. Never agree to a request by the other driver to "Take care of it without calling the police" or otherwise between the drivers. Additionally, depending on the amount of damage or injury, it is likely a crime for anyone to leave the scene of a collision.

 

In addition to information gathered by the officer, you should also obtain information from the other drivers' driver's license and proof of insurance.

 

Snap a picture with your phone of both if you have the opportunity.

 



Get checked out by a licensed healthcare professional: In the immediate aftermath of a collision, many are in shock or coursing with adrenaline.

 

Initially, you may not think the pain you feel is bad enough to result in a serious medical condition.

 

A thorough examination may uncover injuries needing medical treatment that you do not realize you have suffered.

 

Additionally, this will document some of the symptoms you initially feel which can be very important in demonstrating that the collision caused or contributed a particular injury or medical condition, which is often disputed by the insurance company, their lawyer, or so-called experts they may eventually hire.

 



Electronic crash data: Most cars now come equipped with electronic crash recorders that record such information as how fast you were going in the seconds before a crash, where the car was hit, seatbelt usage, use of brakes, RPMs and whether the airbags deployed. This information can help you prove your version of events when seeking damages. However, this information can be lost or erased by the continued driving of your vehicle.

 

Consult an attorney immediately about questions regarding the preservation of electronic crash data.

Report the collision to your insurer: Make sure your insurer is aware of the collision and details surrounding the crash as soon as possible after it occurs. Your insurance policy is actually a contract, and within that policy is a "duty to cooperate," which requires timely notification.

Don't give a recorded statement: The other driver's insurer may ask you to make a recorded statement about the crash. If you're convinced that the crash wasn't your fault, you may be tempted to agree to be recorded; however, this is never wise.

 

Insurance adjusters are trained to make statements designed and intended to secure your permission to obtain a recorded statement.

 

Statements like "send me your medical bills" (which is much different than we will pay your medical bills) are designed to establish rapport and encourage you to "feel safe" in talking with the opposing insurance company.

 

However, the interviewer has been trained and is very experienced with car insurance claims and asking questions designed to eliminate, oppose and/or lessen the value of your claim or otherwise hurt your claim

Send a preservation of evidence letter: The condition of the other driver's car is relevant when proving fault in a crash, including electronic crash data the car recorded. The type of damage the car suffered could be evidence of how fast the driver was traveling or the direction they were facing when the impact occurred. The car itself may contain evidence if some defect in the vehicle, such as a poorly-performed brake job or defective part, was responsible for the crash. Additionally, cell phone data indicating usage will establish driver distraction.

 

Send a letter demanding that the other driver preserve the vehicle and cell phone data as it is because it will serve as evidence in an eventual claim or trial.

Don't accept quick offers to settle: The insurer may tempt you with a quick offer of cash to settle your claim. As good as it may sound to resolve your case in a hurry, these early settlement offers rarely provide the full amount you deserve after an accident. Don't accept an offer to settle before you have more information about your medical condition and what your claim is really worth.

 

Once a release is signed, it is next to impossible to obtain further compensation if you later realize your injuries were worse than you initially thought.

Speak to an attorney: An experienced Texas car accident attorney can handle your claim from start to finish: obtaining electronic crash data and police reports, obtaining medical treatment, opinions or records, carrying out settlement negotiations, and dealing with insurers, all so you don't have to. Plus, most personal injury attorneys take claims on a contingency fee basis, meaning that they won't get paid until you do.
If you've been hurt in a Texas traffic accident, contact the professional and aggressive Beaumont car crash lawyers at the Gilbert Adams Law Offices for a free consultation on your case at 409-835-3000.