Victims of Valero Facility Explosion File Lawsuit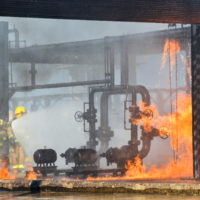 In an earlier post, we shared details about a recent explosion in a Texas City Valero refinery which left several employees with serious injuries. The injured workers of the refinery explosion file a case in court seeking money damages for their injuries. Read on to learn more about their claims and why they believe the refinery owner should be held financially responsible for their injuries.  Contact an experienced Texas personal injury attorney if you've been injured on the job.
Powerful explosion shakes the ground surrounding the blast site
It was on April 19, 2018 that the explosion at a 225,000 barrel-per-day Valero facility in Texas City occurred. The explosion emitted a massive black cloud and was so forceful that employees in a bus parked outside were and thrown off-balance, and other employees suffered damage to their hearing as a result of the loud sound. The explosion occurred in the facility's alkylation unit, which converts refining by-products into other components that are later blended into gasoline. The facility's alkylation unit, which produces some 12,000 barrels a day, was surrounded by workers at the time of the explosion. According to a subsequent investigation, the explosion occurred due to the failure of a line carrying highly flammable liquid through the unit. Injured workers explained that there was no adequate warning of the imminent explosion; a whistle sounded mere seconds before the blast.
Dozens of workers complain of injuries resulting from explosion
At first, Valero announced that no workers were injured in the explosion. While it is technically true that the explosion itself did not cause injuries such as burns or chemical exposure injuries, numerous workers were hurt as the result of the explosion. Workers fleeing the areas immediately surrounding the alkylation unit after the explosion were injured when they tripped over tools, structures, and other equipment. Additionally, the workers on the bus outside the alkylation unit were injured when the powerful explosion rocked the bus.
In all, 28 workers have so far filed legal claims against Valero and Richard Industrial Group, a Beaumont subcontractor that worked at Valero. The injured workers claim that Valero negligently failed to inspect and repair the facility and also failed to provide adequate safety training to its own employees. The workers are seeking money damages for the costs of treating their orthopedic injuries, hearing loss, and post-traumatic stress caused by the explosion, as well as for lost income and earning capacity.
If you or someone you love has been injured in a Texas workplace injury, find out if you have a claim for money damages by contacting the seasoned, dedicated, and aggressive Beaumont personal injury lawyers at the Gilbert Adams Law Offices for a free consultation at 409-835-3000.