Explosion at Texas City Valero Refinery Injures Four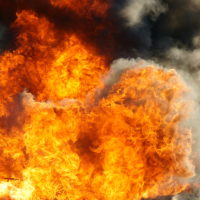 An explosion at the Texas City Valero Refinery between Houston and Galveston sent four contractors to the hospital for injuries and caused a fire which took hours to contain. Read on to learn more about the gasoline refinery accident, and contact a Texas workplace accident lawyer if you have questions after suffering injuries on the job.
Explosion in depropanizer tower
The recent explosion at the Valero plant occurred on Thursday, April 19, 2018. The explosion occurred at approximately 4:50 pm. Four workers were taken to the hospital with minor injuries. The fire that resulted from the explosion took emergency crews until 6:30 pm to contain. During this time, residents of Texas City were instructed to shelter in place in the event that the fire spread throughout the plant and caused additional explosions.
Explosion a reminder of risks to local residents stemming from refineries
Shortly after the explosion, a spokesperson for Valero explained that the company had been working with a third-party air monitoring company to ensure that no unsafe or illegal particulate was being released into the air, possibly doing harm to Texas City residents. While the Texas City official in charge of emergency response seemed unconcerned with the city's air quality after the explosion, a report later released by Valero Energy revealed that the explosion released multiple unauthorized particulates into the air. According to the report provided to the Texas Commission on Environmental Quality, the refinery emitted alkalytes, carbon monoxide, hydrogen fluoride, and oxides of nitrogen and sulfur dioxide, all in potentially-dangerous quantities. These substances can cause serious respiratory issues.
A scientist for the Environmental Defense Fund, Elena Craft, explained that oil and gas companies are often negligent about the safety of substances emitted into the air around their facilities, putting individuals in peril of developing major health issues. "We see over and over again that facilities like Valero have repeat violations. This latest explosion in Texas City is a reminder of the health risks that exist for those who live near industrial plants." Workers at chemical plants are frequent victims of violations of air quality and environmental laws, and they may acquire chronic health problems through exposure to toxic substances. A Texas workplace injury lawyer can help workers determine if they have a claim for damages based on their chronic health problems.
If you've been injured on the job in Texas, get help seeking the money you may be owed for your medical costs and lost work by contacting the dedicated and professional Beaumont workplace accident lawyers at the Gilbert Adams Law Offices for a free consultation at 409-835-3000.