What to Do Following an Auto Collision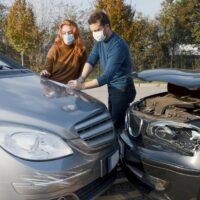 An auto collision and the injuries that result can be a scary and complicated process, especially if the collision involves multiple vehicles or a commercial vehicle. It is important to understand what you should do if you are involved in an auto collision. Here are some tips to keep in mind in order to protect yourself from issues that may arise as a result of the accident.
Check Yourself and Your Passengers for Injury
The most important thing to make sure of after a collision is your safety. Begin by checking yourself and any passengers in your vehicle to make sure everyone's okay. Look for signs of physical injuries such as lacerations and bruises as well as internal injuries such as broken bones. If someone in your vehicle is badly injured, do not move them, and instead call 911 for assistance. Moving a badly injured individual can worsen the injury. If you feel that you are in danger if you stay inside the vehicle, then get out of the car immediately and seek a safe distance away from the car.
Call the Police
You should immediately call the police. This is important not only for the safety of you and other motorists but also to record important information should a dispute arise. Do not fall for the plea of "I can't get another ticket" or "I'll be fired." That an independent third party trained in accident investigation wrote a report is very important. That the report didn't document something that turns out to be important later can also be critically important. If you are not at fault, there is no downside to a report being made. On the other hand, it could cause you much grief if there was no report created.
Exchange Information
While you wait for police officers to arrive, you can begin exchanging information with the other driver or drivers involved in the accident. When exchanging information, it's important to collect the following from the other driver.
Name and contact information
Their insurance company and their policy number
The location of the accident
The make, model, and color of their vehicle
Any statements about fault, such as "I'm sorry," "I was looking down", etc.
Take Pictures with your Phone and Document the Accident
It is absolutely critical to document the details of an accident once it occurs. With the proper documentation, you can help to avoid contentious legal battles with the auto insurance company. Much of this can be done by taking pictures of the scene, the vehicles, their relationship to the other, license plate(s) and driver's license(s). When you're documenting the accident, it's important to consider the following.
Document the names of the other driver(s) all the individuals involved in the car accident.
When officers complete an accident report, be sure to get a copy for your records. When you file an insurance claim, your insurance company may ask you for this accident report. You may also need this report if legal action were to take place.
Be sure to take pictures of the accident scene as quickly as you can. Take snapshots of the accident from several angles and collect pictures of both your vehicle and the other vehicle. Include images of the impacted area as well areas of the car not impacted. Having these photos can help you strengthen your case when you submit a claim to your auto insurance company. These photos can also become critical evidence if a legal battle arises because of the incident.
If there were any witnesses to the car accident, it can serve you to collect their name, contact information, and even a brief statement from them about what they observed.
Document the names and badge numbers of the police officers who arrived on the scene. This will allow you to easily reach out to these officers if you need to speak to them again in the future.
Get Dedicated Help With Your Texas Auto Collision and Injury Claims
Even the most minor of car accidents can turn into a complicated and drawn-out process. In some cases disputes can lead to lengthy and complex legal battles, especially if there was extensive property damage or injuries as a result. You should absolutely get the advice of an experienced injury attorney to assist you in determining your rights as to the at-fault driver and insurance companies.
If you or a loved one has been injured in a car accident, contact the dedicated and effective automobile collision attorneys at the Gilbert Adams Law Offices for a free consultation. Call 409-835-3000 or contact us online for immediate assistance.