How to Avoid Being Hit by a Drunk Driver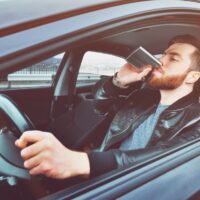 Drunk driving remains a dangerous problem on Texas roads causing many injuries and deaths every year. In 2018, 961 people were killed in drunk driving accidents in Texas, representing more than 25 percent of the total number of motor vehicle fatalities. Thousands more are seriously injured by drunk or impaired drivers each year. Below, we offer a few tips for responsible drivers to utilize when on the road to avoid getting into an accident with a drunk driver. Reach out to a seasoned Beaumont drunk driver accident lawyer if you have been hurt by a drunk or negligent driver.
Try to Limit Driving at Night
According to the Texas Department of Transportation, there are more DUI/alcohol crashes reported between 2:00 am and 2:59 am than at any other hour of the day. The vast majority of DUI crashes happen after the sun goes down when people are heading to and from bars, restaurants, clubs, and parties. If possible, plan to limit driving after 10:00 pm, and avoid driving after 1:00 am entirely.
Avoid Driving on Drinking Holidays
Even outside of the nighttime hours, several days throughout the year yield significantly more drunk driving accidents than others. Holidays like St. Patrick's Day, New Year's Eve, and Super Bowl Sunday all see a massive uptick in driving while intoxicated across the state. Do your best to limit or avoid driving on these drinking holidays to cut down on your time sharing the road with a high volume of drunk drivers.
Stay Vigilant
The most important thing that a good driver can do is be on constant alert for the behavior of other drivers on the road. Check your mirrors and blind spots regularly. Never assume a driver will do what they should do, such as flashing their turn signal before changing lanes. The more alert you are as a driver, the less likely you will be taken unawares when someone else makes a dangerous mistake.
Report Suspicious Driving
If you are on the road at any time of day, but especially at night, do not hesitate to report suspicious driving. If you see a car swerving, making sudden turns or lane changes without signaling, drifting to the shoulder or center median, or otherwise moving erratically, call the police and report your suspicions. Getting intoxicated drivers off the road ensures that you, your children, and other motorists are that much safer.
Don't Let Your Friends Drive Drunk
If you are leaving a restaurant, bar, club, or social gathering, do not let your friends or family drive while under the influence of alcohol. Offer to give rides (if you are sober), or to call or share a taxi, Uber, or Lyft. You are ensuring the safety of not only yourself and other drivers, but also your loved one and any passengers in their car.
Help Pursuing Your Texas Traffic Accident Injury Claims
If you've been hurt in a Texas car or truck crash, contact the zealous and passionate Beaumont personal injury lawyers at the Gilbert Adams Law Offices for a free consultation on your case at 409-835-3000.