Common Hazards on a Construction Site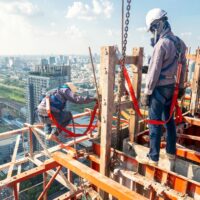 Construction is a vital industry in Southeast Texas. It is also one of the most dangerous. As many as twenty percent of all private industry worker fatalities occur in construction-related jobs. According to agencies such as the U.S. Occupational Safety and Health Administration (OSHA), the majority of construction accidents are preventable, had all parties involved followed appropriate safety precautions. Below, we discuss some of the more common hazards that occur on construction sites. If you or someone you love has been injured in a construction accident, call a dedicated Beaumont construction injury attorney.
Falls
Slips, trips and falls are among the most common accidents that occur on construction sites. One common culprit for a slip and fall is a wet surface. Whether due to weather, cleaning, or spill of a drink or other liquid, wet surfaces at construction sites are even more dangerous than in other locations. Slipping at a construction site can cause a worker to fall over a railing, down stairs, off of a scaffold, or to strike their head on any number of hard surfaces or heavy machinery.
Discarded Tools, Wires, and Other Materials
Like wet surfaces, loose objects left around a construction site are likely to lead to a trip and fall or falling object accident. Tools or construction materials left behind after performing a task in a location can easily trip a worker later that day or the next morning, as can loose wires attaching power sources to machinery in other parts of the site.
Working at Heights
Regulations require employers to identify and correct the dangers of working at heights on a construction site. Whether while climbing stairs, climbing a ladder, or working from scaffolding, the risk of falling from a height is ever-present. Scaffolding and other equipment should have additional levels of safety – double guard-rails should be installed and safety nets utilized where appropriate, and proper ladder precautions should always be employed. Adequate fall protection is required on most worksites above six (6) feet.
Unsafe Equipment
Using malfunctioning or unsafe equipment can lead to serious injury. Supervisors and workers should regularly inspect all equipment to ensure that they are compliant with safety codes and manufacturer operating instructions.
Dangerous Chemicals
Many construction projects involve the manufacture, use, transport or disposal of hazardous materials. Hazardous chemicals can injure workers through exposure inhalation, eyes or skin. . Workers should always be provided with appropriate safety training and protective equipment, including gloves, vests, helmets, masks, and goggles to mitigate the risk of injury caused by exposure to harmful chemicals.
Help Recovering the Damages You Deserve After a Texas Construction Accident
If you've been hurt in a Texas construction accident, contact the seasoned and effective Beaumont personal injury lawyers at the Gilbert Adams Law Offices for a free consultation on your case at 409-835-3000.