Distracted Driving: How Dangerous is it to Use a Cell Phone and Drive?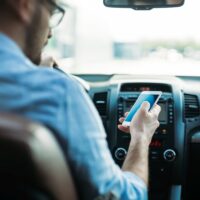 Since the turn of the millennium, distracted driving has rapidly grown to become one of the biggest dangers on roadways across the country. By some accounts, distracted driving as a result of cell phone use has become even more dangerous than driving while intoxicated or impaired. Sending a text while in the middle of a drive may feel innocuous, but it drastically increases the risk of a collision. Drivers who cause car crashes while using their phones are likely to be held responsible for any injuries and damages caused. Distracted drivers can and should be held accountable to the victims of their disregard for the safety of others on the road. Below, we discuss the dangers of cell phone use while driving. If you or someone you care about has been injured by a distracted driver in Texas, call a seasoned Beaumont car accident lawyer for advice and assistance.
How Does Texting Affect Your Driving?
The federal Centers for Disease Control and Prevention (CDC), along with other safety experts, describe three types of driver distraction: visual, manual, and cognitive. Visual distractions take the driver's eyes off the road. Manual distractions take the driver's hands off the wheel while driving. Cognitive distractions shift the driver's focus away from driving while on the road.
Using a cell phone while driving, especially sending a text message or otherwise making any kind of text communication, triggers all three types of driver distraction. The driver's hands are on their phone instead of the wheel, the driver's eyes are on the phone instead of the road, and the driver's attention is focused on the message instead of watching the road for traffic and road hazards. The same applies when surfing, posting on social media, responding to a direct message or otherwise making any text-based communication while driving. Other uses of a cell phone, such as making a call, are likely to trigger at least one or two of the categories of driver distraction.
Safety experts estimate that it takes a minimum of five seconds on average to read a text message. During that time, a driver's eyes, hands, and brain are focused on something other than the task of driving. A driver on the freeway traveling at 55mph who responds to a text message or DM is essentially driving the length of a football field while blindfolded. If the driver is reading something more lengthy or watching a video, the distraction time is increased and the danger is multiplied.
Distracted Driving Statistics
According to the National Highway Traffic Safety Administration (NHTSA), more than 3,000 people are killed every year in distracted driving motor vehicle collisions. In 2019 alone, 3,142 people were killed across the country in distracted driving wrecks. Nine percent of all fatal crashes, 15 percent of crashes involving injury, and 15 percent of all police-reported motor vehicle crashes in 2019 involved some sort of driver distraction. In addition to the fatal crashes, 424,000 people were injured in distracted driving accidents across the country during 2019. Five hundred sixty-six pedestrians, bicyclists and other vehicle non-occupants were killed by distracted drivers in 2019 as well.
Drivers aged 15 to 20 years old are especially likely to be involved in fatal accidents involving driver distraction. The proportion of fatal distracted driving accidents (as compared to the number of drivers within each age group) drops somewhat by age after 20, although drivers aged 65 and older are more likely to be involved in fatal distracted driving accidents than drivers aged 20-64.
The numbers are no better within the State of Texas. According to the Texas Department of Transportation, one in five car crashes in the state are caused by a distracted driver. In 2020, 2,200 people were seriously injured and 364 people were killed in the state in collisions caused by distracted drivers. If you are on the road in Texas, keep your phone safely tucked away. If you were hit by a distracted driver, you have the right to seek compensation for the harm you have suffered.
Trusted Advice and Representation After a Distracted Driving Accident in Texas
If you've been hurt by a distracted driver in Texas, contact the passionate and thorough Beaumont personal injury lawyers at the Gilbert Adams Law Offices for a free consultation on your case at 409-835-3000.