Explosion at oil/gas Drill Site Results in Multiple Fatalities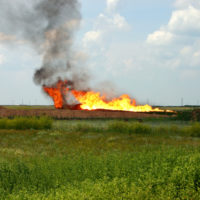 An explosion at an Oklahoma oil and gas well resulted in the deaths of five men, as well as burn injuries to a sixth man. The US Chemical Safety Board is now investigating the incident, which some state officials believe was caused by defective equipment. Learn more about the tragic accident below, and contact a drilling rig accident attorney if you've been injured while working on a Texas oil or gas well site.
The explosion occurred on Monday, January 22, 2018 at approximately 9:00 am. The site of the explosion was located between the cities of Quinton and Featherston in Pittsburg County, Oklahoma. In total, 22 people were working on the drilling rig at the time of the explosion, but emergency responders could locate only 17 when they first arrived at the scene of the accident. One man was taken via helicopter to a nearby hospital with burn injuries.
The oil well site was operated by Red Mountain Operating, a subsidiary of Red Mountain Energy, but the drilling itself was conducted by Patterson-UTI. The corporation erected the drilling rig only weeks before the explosion. Emergency fire personnel allowed the fire to burn until 4:00 pm that afternoon, so as to contain the spread of hazardous materials. The heat of the fire was so intense that the derrick on top of the rig collapsed.
Emergency responders were unable to get within 100 feet of the rig to search for the five missing workers, due to the size of the main fire and several subsequent explosions. The blowout preventer, a feature intended to automatically shut down a gas well in the event of an emergency, was disabled by the initial explosion, which made shutting down the well more challenging for on-site experts. According to an incident report by the Oklahoma Corporation Commission, there was an uncontrolled release of gas which caused the fire. Workers then tried to activate the blowout preventer. However, the blind rams (two steel blocks that are responsible for sealing the well) didn't close.
On Wednesday, January 24, Chemical Safety Board investigators arrived to begin investigating the explosion. The five deaths made the Quinton explosion the deadliest oil and gas accident since the Deepwater Horizon explosion in 2010. Similarly, the failure of the blowout preventer was suspected to be a primary cause of that accident as well.
If you've been injured in the oilfield, get the compensation you deserve for your injuries by contacting the dedicated, knowledgeable, and aggressive Texas oilfield accident lawyers at the Gilbert Adams Law Offices, in Beaumont at 409-835-3000 where they have been representing injured workers for more than 85 years.