ExxonMobil to Pay Fine After Deadly Fire at Texas Refinery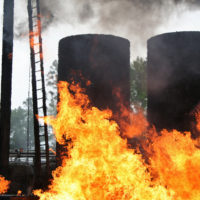 Oil giant ExxonMobil is being held accountable by the Environmental Protection Agency (EPA) for its role in a refinery fire that killed two Texas workers and injured ten others. Refinery fires and explosions are extremely hazardous, creating a risk of injury and death not only for workers in the refinery but also for people who live anywhere nearby the area. Read on for details about the incident and the EPA settlement, and contact a skilled Texas refinery accident attorney if you've been hurt in a refinery fire or explosion.
Refinery Fire Injures and Kills Multiple Texas Workers
On April 17, 2013, a fire at an ExxonMobil refinery broke out after workers used a blowtorch to remove bolts from the top, or "head," of a heat exchanger. The torch ignited hydrocarbons released from the heat exchanger. Two employees were killed in the explosion, and another 10 employees were burned or injured.
The explosion led to an EPA investigation. The EPA found that ExxonMobil was in violation of Section 112(r) of the Clean Air Act as well as certain provisions of the Chemical Accident Prevention Provisions, which are federal regulations governing the treatment of chemicals at manufacturing locations and other industrial plants. Pursuant to the settlement with the EPA, ExxonMobil will pay a $616,000 civil penalty and undergo monitoring for compliance with increased safety standards.
In announcing the settlement, federal officials emphasized their hope that the tragedy and eventual punishment would encourage other companies dealing in hazardous chemicals to take the necessary steps to protect their workers under the environmental laws "or face the consequences of vigorous enforcement."
Texas refineries have a history of fires and explosions, as well as other gas-related releases and accidents. Just this March a huge petrochemical terminal in Deer Park exploded and burned for several days. Luckily, no personnel were injured, although the plume of smoke could be seen for miles.
In addition to regulatory fines, ExxonMobil and any other companies that shirk safety standards while dealing in hazardous or volatile chemicals, such as those present in oil refineries, are responsible for burns, injury or death as a result of dangerous conditions. Failing to comply with EPA regulations or other safety standards is strong evidence that a company acted negligently and should be forced to compensate injured workers for any injuries or death suffered.
Call Attorney Gilbert Adams After a Refinery Accident
If you or a loved one has been injured or killed in an oil refinery accident, find out if you're a candidate to pursue a Texas personal injury lawsuit by contacting the seasoned, professional and effective Beaumont personal injury lawyers at the Gilbert Adams Law Offices for a free consultation at 409-835-3000.