Largest Crash in Recent History – 25-Car Pileup and Closed I-37 Freeway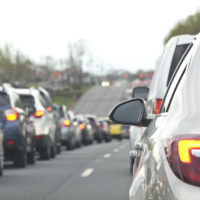 Interstate Highway 37 (I-37) was shut down for several hours in both directions on a recent Wednesday following one of the most massive traffic crashes in recent memory. The accident is likely one of many to come during the holiday season, which is one of the most dangerous times of the year to be on the road. Read on for details about the accident, and contact a skilled Texas car accident attorney if you've been hurt by a negligent driver.
25-Car Wreck on I-37
Both lanes of I-37 in Atascosa County were closed for several hours after a massive wreck and several fiery explosions. The collision happened around 7:15 a.m. on northbound and southbound lanes of I-37 between the 86- and 88-mile markers, near the Live Oak and Atascosa County lines. At least 25 vehicles were involved, possibly as many as 30. The wreck included multiple 18-wheelers, tractor trucks, and standard passenger cars and trucks. Some cars rear-ended one another, others flipped over the median while attempting to avoid the pileup. Vehicles were stretched out over a mile and a half along the highway. At least two vehicles caught fire.
At least three people were transported to nearby hospitals with injuries. As of December 19, 2018, two people involved in the crash were critically injured, but thankfully no fatalities resulted from the accident. Authorities continue to investigate the cause of the accident, though preliminary commentary suggests that the fog covering the area was likely a contributing factor.
Increased Danger on the Roads During the Holidays
Texas officials are on high alert for drunk, distracted, or otherwise unsafe drivers on the road as the holiday season continues on. The holiday season is one of the most dangerous times of the year to be on the road due to a variety of factors, including larger numbers of vehicles on the road, poor weather conditions, and a marked increase in drunk and drowsy driving. According to data from the Insurance Council of Texas, in 2017, there were 2,469 alcohol-related crashes in Texas during the holiday season alone; 96 people were killed and another 202 were seriously injured. Over the three days from the evening of December 30 to January 2, 2017, there were 44 fatalities and 171 injuries from car accidents, alcohol-induced or otherwise, in the state.
If you or a loved one has suffered injuries or damages in a traffic accident caused by the negligence of another driver, find out if you're a good candidate to pursue a Texas personal injury lawsuit by contacting the seasoned, professional and effective Beaumont personal injury lawyers at the Gilbert Adams Law Offices for a free consultation at 409-835-3000.