Important Things to Know About Gas Explosions and Injuries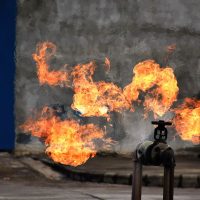 Many devices in our homes, in our vehicles, in the workplace, and just about everywhere run on gas. Products that operate with a direct line of propane or natural gas are common and dangerous. Every year, people around the country are burned, injured or killed in gas explosions caused by defective products, poor installation, lack of maintenance, and other causes. Gas explosions are rarely minor–if anyone is in the vicinity, they are likely to suffer painful burns, broken bones, and any number of other serious or fatal injuries. If your occupation involves work in the energy sector or a factory or industry with gas-powered equipment and heavy machinery, the risk of catastrophic or fatal injury is especially high in the event of an explosion.
If you or a loved one has been hurt in a gas explosion in Beaumont, Houston, Southeast Texas, or statewide, the zealous Beaumont personal injury lawyers of the Gilbert Adams Law Offices are ready to help. We will investigate the circumstances of your gas explosion or fire and collect the evidence necessary to build the strongest case possible. We'll help you prove who was at fault, whether it was a cost-cutting employer or landlord, a defective product manufacturer, a lazy gas line installer, or other negligent parties. We'll negotiate for a fair settlement and, if you don't get the offer you deserve, we'll take your case all the way to trial and beyond. Contact the Beaumont gas explosion accident attorneys at the Gilbert Adams Law Offices for a free consultation after a Texas gas explosion injury.
Helping Gas Explosion Victims After All Types of Gas Accidents
Gas explosions happen because of defective products, negligent behaviors, or a combination of both. If the products involved are properly designed, built, maintained and used, there is no reason that a gas explosion should occur. Unfortunately, leaks can occur, gas pipes wear down with time, connections can come loose, and appliances, equipment or machinery can fail. Most gas explosions are caused by a combination of a gas leak and an ignition source, which can result from commonly present or used sources. Depending on what caused your gas explosion, one or more different parties may be legally responsible for your damages.
After a gas explosion, it is critical to investigate the cause in order to hold the responsible parties liable for the injuries that result. Common causes of gas explosions in the home or commercial or industrial spaces include:
Leaking pipes or valves;
Improper ventilation;
Products defectively designed, marketed or manufactured;
Installation errors; failure to properly install gas stoves, water heaters, and other consumer appliances
Defective water heaters
Dangerous defects in consumer or industrial power tools
These failures could be caused by a product design defect, poor maintenance, damage during transport, improper installation, or countless other failures of safety and quality control and can occur with very common products such as stoves, heaters and other consumer products as well as in the workplace with tools and equipment.
Damages Available After a Gas Explosion Injury
Gas explosions are incredibly dangerous because they generally lead to a number of severe injuries which are likely to leave the victim with permanent damage and functional limitations. Gas explosions, especially in residential areas, often lead to fatalities. Nonfatal injuries often include burns, broken bones, lung damage, traumatic brain injury, internal organ damage, and more. Depending on the nature and extent of the injury, damages recoverable for a negligent party responsible for the explosion could include:
Past and future medical and life care expenses
Property damage caused by the explosion
Lost wages during recovery time
Loss of future earning capacity caused by pain and functional limitations
Pain and suffering
Emotional distress
Disability
Disfigurement
Loss of life enjoyment
Wrongful death
Seasoned Texas Gas Explosion Attorneys Working for You
If you or a loved one has been injured in a gas explosion at home, at work, or on public or private property in Houston or Texas statewide, find out if you should file a claim for damages by contacting the talented and trial-ready Beaumont personal injury lawyers of the Gilbert Adams Law Offices at 409-835-3000.