Rise in Roadway Fatalities in 2016 Marks Third Straight Year of Roadway Deaths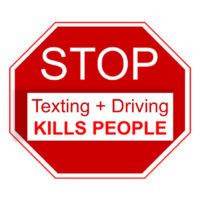 According to NHTSA, which gathers data on the causes of motor vehicle accidents from local agencies, the total number of fatal accidents caused by distracted drivers fell in 2016 by 2.2% to account for only 9.2% of all fatal roadway injuries. Within the category of all distracted-driving-related accidents, 448 fatal crashes were attributed to mobile phone-related distractions.
Despite NHTSA's statistics, many experts believe that the continued rise in roadway deaths is due to an increase in phone usage behind the wheel, and that mobile phone distraction is happening more often than is reported. In support of this conclusion, experts point to studies showing that 85% of drivers activate their phone during a car ride. Additionally, these experts note that the types of accidents that are on the increase are ones often linked to cell phone distractions.
For example, the rates of deaths among pedestrians, cyclists, and motorcyclists are growing at a higher rate than those in other categories. Since drivers distracted by a phone are most likely to miss smaller objects in their visual field when quickly scanning the road ahead before looking back at their phones, it follows that they would be more likely to miss crossing pedestrians or bicycles . Where evidence exists that a Texas driver was distracted by their phone in the lead-up to an accident, this evidence can support a claim against the at-fault driver for compensatory and even exemplary damages.
If you have sustained serious injuries, lost a loved-one or been in a serious car wreck and need help obtaining the damages to which you are entitled,, contact the knowledgeable, dedicated, and effective personal injury attorneys at Gilbert Adams Law Offices for a free consultation at 409-835-3000. The Firm was Founded in 1930 and has recovered hundreds of millions of dollars in damages for its clients.