TPC Plant Explosion Leads to Evacuation, Property Damage, Injuries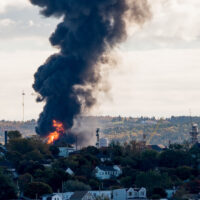 Texas Petrochemical Group (TPC), a chemical plant in Jefferson County recently experienced multiple explosions, and the resulting fires continued burning for several days, leading to massive evacuations and claims ranging from property damage, personal injury, smoke and chemical inhalation, to interference with business operations.  Continue reading for details about the incident and the resulting damage, and reach out to a dedicated Beaumont workplace accident and personal injury lawyer if you or a loved one has been injured due to someone else's negligence in Texas.
Jefferson County Residents Evacuated Following Chemical Plant Explosion and Fire
On November 27, 2019, two massive explosions occurred at the TPC plant located in Port Neches off TX-Spur 136.  The TPC plant manufactures butadiene and other chemicals used in synthetic rubber, fuels, lubricant additives, plastics and surfactants.  Multiple tanks exploded at the plant, releasing butadiene and hydrocarbons into the surrounding atmosphere.  TPC has yet to publicly release the cause of the explosions. 
The explosions rocked surrounding neighborhoods, blowing out windows and doors, damaging roofs, and causing other damage to nearby businesses and homes.  At least two employees and one contractor were hospitalized as a result of the explosions.  Several residents were injured by hazards resulting from the incident such as shattered glass and injuries caused by inhalation of particulate matter.  State experts are monitoring air quality to determine if there are dangerously-elevated chemical levels.  More than 60,000 people in Jefferson County were evacuated from areas in a four-mile radius around the plant.
Several lawsuits have been filed against TPC based on the property damage and business interruption resulting from the explosion.  Residents who suffer any adverse effects as a result of polluted air from the chemical dispersal and explosion may also have claims against TPC.  The extent of TPC's liability for property damage, personal injuries, and other financial hardships will depend on the result of an investigation into the causes of the accident and the resulting damage. 
TPC has alluded to its voluntary claim process for property damage caused by the explosions. However, TPC has not accepted responsibility for all of the damages caused to those affected persons.  Any residents of the surrounding area who may have a personal injury, property damage, business interference, or other claims resulting from the explosions should consult with legal counsel before joining any class action or TPC claims process in order to evaluate their claims and avoid losing out on any available legal rights or damages.
If you've been hurt as a result of negligence in Texas, contact the seasoned and effective Beaumont personal injury lawyers at the Gilbert Adams Law Offices for a free consultation on your case at 409-835-3000.