Ways Insurers Can Be Liable for Bad Faith Insurance Practices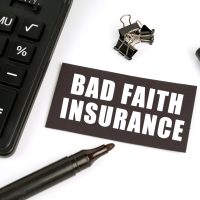 Texas law requires insurance companies to treat policyholders and other interested parties fairly. If an insurance company commits fraud or otherwise acts in bad faith against its insured, the insurance company can be held liable for insurance bad faith. Injured parties that prove bad faith can recover the value of their policy coverage, litigation costs, and other damages. Read on for an explanation of how to hold insurers liable for bad faith, and if you've been the victim of bad faith conduct by an insurance company in Texas, call our Beaumont bad faith insurance lawyer for advice and representation.
Statutory vs. Common Law Bad Faith
In Texas, there are two different rights of action for insurance bad faith: common law and statutory authority. "Common law" refers to a generally understood right of action deriving from historical case law; policyholders can sue when an insurer violates the implied covenant of good faith and fair dealing. Texas policyholders and third parties can also sue when an insurer violates Chapter 541 or Chapter 542 of the Texas Insurance Code.
Common Law Bad Faith: Wrongful Claim Denial
Common law insurance bad faith occurs when an insurance company violates the implied covenant of good faith and fair dealing inherent in insurance contracts. Insurers must treat customers honestly and fairly.
Texas courts entertain a bad faith insurance claim when the insurance company denies a claim even though coverage was reasonably clear. The plaintiff must show the insurer knew or should have known there was no reasonable basis to deny the claim.
Insurance Bad Faith Under Chapters 541 and 542
The Texas Insurance Code lists many specific, prohibited behaviors by insurance companies. If an insurance company violates Chapter 541 or 542, the injured party has a right of action. Unlike common law bad faith claims, a claim for insurance bad faith under the Insurance Code can be brought by other injured parties as well as by policyholders.
Chapters 541 and 542 list out several specific forms of prohibited conduct. A bad faith claim may be premised upon how the insurer responds to the claim, how they make their coverage decision, how they negotiate the claim and communicate with interested parties, as well as how they pay a claim once coverage is decided. Prohibited conduct includes, but is not limited to:
Misrepresenting a material fact in evidence or a policy provision
Failing to attempt to settle a claim in good faith when liability is reasonably clear
Misrepresenting the financial condition of an insurer
Making a misrepresentation designed to cause a policyholder to let their policy lapse or improperly forfeit or surrender their policy
Failing to acknowledge pertinent communications regarding a claim
Failing to promptly investigate and decide upon claims
Failing to promptly provide a reasonable explanation for the denial of a claim
Refusing to pay out on a claim without conducting a reasonable investigation
Statutory bad faith claims can be brought by the policyholder as well as by other injured parties, such as policy beneficiaries. The injured must generally prove that the insurer committed one or more behaviors that constitute bad faith, and that the bad conduct was deliberate as opposed to the result of an error. If an administrative error or a mail carrier mistake caused a claim to be unreasonably delayed, for example, the insurer may not be liable for bad faith.
Examples of Bad Faith Conduct
Insurers may be liable for a wide range of bad faith conduct that violates either the common law or the Insurance Code. Some examples of conduct that may give rise to a bad faith claim include:
Refusing to respond to a policyholder's claim for coverage or otherwise reasonably communicate
Denying a claim without giving a reasonable explanation
Failing to investigate a claim at all, or dragging out an investigation for months without proper justification
Lying about or misrepresenting the language in the policy
Offering the plaintiff significantly less than the policy is worth when coverage is reasonably clear
Failing or refusing to pay a beneficiary within a reasonable period of time
Refusing to provide requested documentation
Continually requesting duplicative, burdensome, or otherwise unnecessary documents from the claimant in order to burden the claimant and/or delay the administration of the claim
Call Today if Your Texas Insurer Wrongfully Denied Your Claim
If your insurance claim was wrongfully denied or if you've otherwise been treated in bad faith by an insurance company in Texas, contact the seasoned and successful Beaumont bad faith insurance lawyers at the Gilbert Adams Law Offices for a free consultation on your case at 409-835-3000.