After an Oilfield Accident: What to Do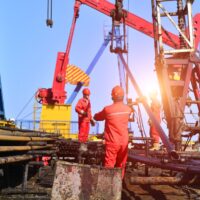 Oilfield accidents are serious and require specialized knowledge and discovery. Oilfield explosions or fires can lead to severe burn and brain injuries and trauma, expensive medical bills, and impair your ability to work in the future. If you've been hurt in an oilfield accident, whether you were on the job or just passing by, there are numerous important steps to take. We discuss what to do after an oilfield accident below. If you have been injured in an oilfield accident or gas explosion in Texas, call a qualified Beaumont oilfield accident attorney for help seeking compensation.
Notify Your Supervisor
If you were injured on the job, it is vitally important to notify your supervisor of the accident immediately. Regardless of how the accident occurred or whose fault you believe the incident to be, in order to recover under workers' compensation coverage, you need to tell a supervisor about the accident ASAP. Making a report is also crucial in proving the timing of the accident and connecting the accident to your injuries. Delaying can give insurance companies excuses to claim you sustained injuries at some other time or place.
Get Medical Attention
As soon as you notify your supervisor, leave the site and head to a doctor's office or hospital. If you have serious or critical injuries, of course you should leave immediately and accept any emergency medical care offered. Even if your injuries are less severe, or if you are unsure whether you have an injury, you should still get checked out as soon as you can. You could have latent, hidden injuries such as organ damage or internal bleeding or injuries that are not fully documented until after more extensive diagnostic testing, such as an MRI. Delaying treatment only gives those who may be legally responsible potential defenses to responsibility.
File a Written Report
If you were injured on the job, it is also important to file a written report of the incident. Orally reporting to a supervisor is an important first step, but it is also important to officially report the accident to your employer. Human Resources or some other department should have forms that you can fill out to report a workplace incident. Your report need not include every relevant detail, but it should state the facts of what happened. This report will be important in your eventual injury claims, ensuring that the employer and their insurance provider cannot escape liability for your injuries.
Gather Evidence
Before or after you leave to get medical attention, you should start the process of gathering evidence to document your case. Take photographs of the accident site, even if it's already been cleaned up. Take down all witness information, including contact information. Write down whatever details of the accident you can remember, so you have something to refer to later on. Keep copies of any reports generated, as well as medical reports, medical bills, and communications with your employer. Keep everything relating to the case, and when you talk to your attorney, they will assess which of the evidence is important and useful for your claims.
Call an Oilfield Accident Lawyer
Recovering damages after an oilfield accident can be a complex process. If you were on the job at the time, you will need to go through the workers' compensation process; securing maximum benefits is difficult to do without an attorney. Many times a lawsuit will be required to recover compensation adequate to offset your losses. You will need to gather evidence, identify all appropriate parties to sue (the oil company, the construction company, a third-party contractor), investigate the circumstances of the incident, etc. These steps require the knowledge and expertise of a seasoned oilfield injury attorney.
Call an Experienced Oilfield Accident Lawyer for Help With a Texas Gas or Oilfield Injury Claim
If you've been hurt in a Texas oilfield accident or gas explosion, contact the experienced and professional Beaumont personal injury lawyers at the Gilbert Adams Law Offices for a free consultation on your case at 409-835-3000.