Research and Technology Uncover Greater Information on Impact of Phone Use on Crash Rates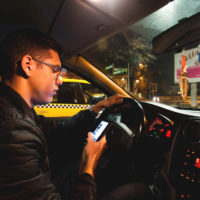 Identifying when drivers caused a crash due to being distracted by their phone has historically been a challenge for law enforcement. There is rarely any way to identify whether a driver was on their phone before a crash if an eyewitness cannot testify to seeing it, since drivers are rarely willing to admit to breaking a law against texting while driving in the moments before causing a crash. One company has created an app that helps to address the lack of knowledge of the true rate of distracted driving accidents, and they have recently released a report detailing what they've learned from that app.
Cambridge Mobile Telematics' app tracks a user's driving behavior while they're behind the wheel, including their braking habits, speed, turning, and phone use while driving. The study of data gathered from users of the app uncovered that, in 52% of all car trips that resulted in a collision, the driver had been using their phone for an average of over two minutes before the crash. Phone use increased the risk of an accident by over three times.
A new device called the Textalyzer may soon offer support to law enforcement in their quest to limit this dangerous behavior. The Textalyzer allows a user to plug in their phone to identify whether that phone has recently been used to send or read a text, email, or other message, as well as to identify other distracting uses. The makers of the Textalyzer, a company called Cellebrite, asserts that the software accomplishes this end without reading the content of the messages or otherwise violating the privacy of information stored on the phone.
The device has been lauded by safety experts as a critical step in the fight against distracted driving, with the president of the National Safety Council describing it as an important next step in making roads safer by being free from distracted drivers. Even though the Textalyzer is still in the final stages of development, state lawmakers in New York are already considering a law that would make it mandatory for drivers involved in a crash to turn their phones over to law enforcement to be scanned by the Textalyzer to determine whether that phone was used in the moments before a crash. Should the device prove successful in curbing phone use by drivers, its use may spread. A number of other states are already considering providing the device to law enforcement for similar use.
If you or a loved one have been hurt in an accident with a distracted or otherwise careless driver in Texas, find out if you're entitled to money damages by contacting the seasoned and dedicated Beaumont personal injury lawyer Gilbert Adams for a no-cost consultation on your case, at 409-835-3000.