What You Need to Know about Burn Injuries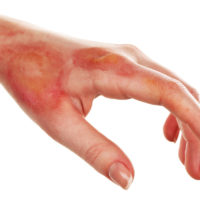 Burn injuries can be extremely painful and costly injuries. Many workers in chemical, refinery, electrical, or construction work run the risk of on-the-job burns, but there are numerous burn hazards in the home as well. If you've suffered a burn injury, it's important to understand the nature of these injuries and how best to treat them to assist in mitigation of permanent scarring. Read on to learn more about burn injuries, and contact a Texas personal injury lawyer if you need help getting compensation for your burn injuries.
Burn classifications
Burns are largely divided into three degrees as follows:
First-degree burns
These types of burns cause minimal damage to the first layer of skin, though they can be quite painful. They're typified by red, inflamed skin and tend to heal in about a week or ten days. First-degree burns can possibly be treated successfully at home unless they're larger than three inches in diameter or are on a major joint.
Second-degree burns
A second degree burn causes damage beyond the skin's top layer, causing painful blistering, soreness, and redness. When blisters break, the skin may weep. If second-degree burn victims are very careful, these injuries can be treated at home by using antibiotic cream and applying bandages, but there is an increased risk of infection and scarring when these injuries are not treated timely or adequately. When second-degree burns occur on a large area of skin or sensitive areas of the body, such as the face, groin, hands, or feet, victims should seek medical treatment for the burn. Depending on the success of treatment, scar revision surgery can be necessary.
Third-degree burns
These burns extend through all layers of skin and can damage nerves, muscle tissue, organs or other parts of the body in the process. Third-degree burns can appear waxy, white, charred, leathery, or dark brown in color. These burns must be treated by a professional to prevent infection, permanent damage or major scarring at the burn site. Often it is necessary that tissues from these burns be removed. Depending on the size of the burn, skin grafting is usually required to replace the damaged skin.
What are the risks associated with burn injuries?
In addition to the prevention or reduction of scarring, burn injuries must be taken seriously because of the risk of infection. Broken, damaged or burnt skin provides an opportunity for harmful bacteria to enter the body. Whenever wounds are deep or take long to heal, that risk of infection increases. Severe burn victims are at an especially high risk of sepsis. Sepsis occurs when the chemicals that the body releases into the blood stream to fight a bacterial infection cause an inflammatory response in multiple locations in the body, which can lead to organ failure. Victims of severe burns may also require skin grafts when burned skin is too damaged to heal normally.
If you need assistance seeking money damages after a major burn injury accident in Texas, contact the knowledgeable, seasoned, and effective Beaumont personal injury lawyers at the Gilbert Adams Law Offices at 409-835-3000 for a free consultation.